How to Make Quick Money in One Day – 15 Practical Methods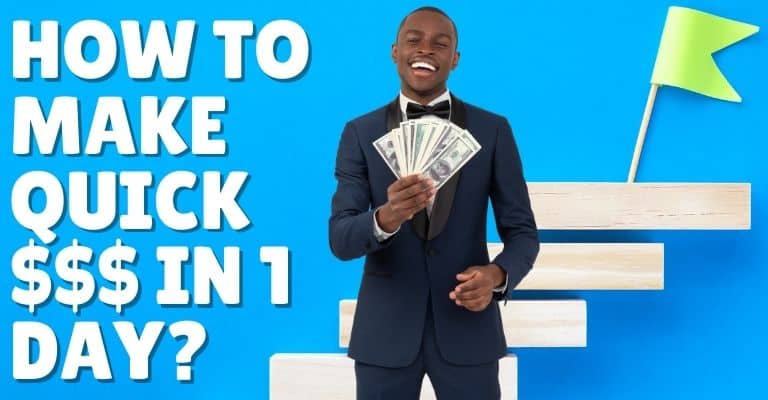 So, do you want to learn how to make quick money in one day?
Are you looking for ways to make money quickly? Everyone has days when they need extra cash, but it can seem impossible to make money in one day. Fortunately, there are plenty of options available that can help you earn an income quickly and effectively.
With the right strategies and know-how, you can easily make some cash in under twenty-four hours. So whether you're looking for ways to make money fast or want to build your long-term passive income on your own schedule, these ideas will help you get there faster.
One of the simplest methods is to look for freelance opportunities.
Services like Fiverr and Upwork offer people the chance to earn quick money by providing services such as writing, graphic design, and virtual assistant work.
You can even make money from delivering items using Instacart or walking dogs for busy pet owners through Rover!
Another good way to make cash fast is to sell unwanted items online or through local consignment stores.
Participating in focus groups or paid online surveys is also a great way to earn quick money.
No matter what method you choose, one thing is sure: as long as you're willing to put in the effort and take calculated risks when needed, making quick money in one day is achievable!
This blog post will list 15 ways to make quick money in one day. With these strategies, you'll be able to increase your personal income today!
Disclosure: Some of the links in this article may contain affiliate links, which may provide compensation to me at no cost to you if you decide to purchase. These are products and services I've personally used and stand behind. This site is not intended to provide financial advice and is for entertainment only. You can read our affiliate disclosure in our privacy policy.
Garage sale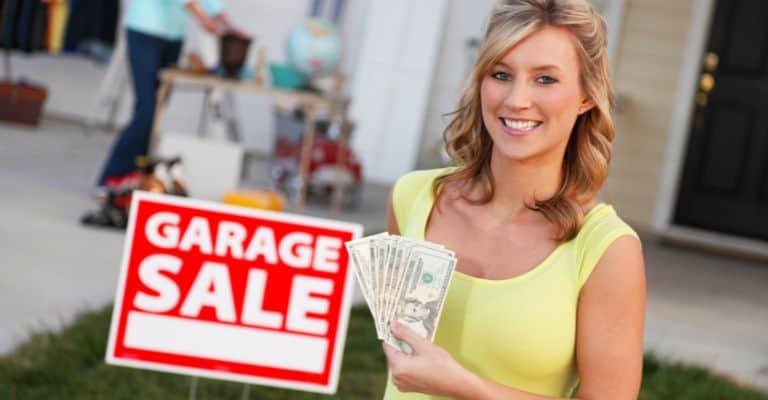 Garage sales are a great way to make money fast in just one day. Not only can you declutter and earn money, but the whole process is enjoyable and rewarding.
Gather anything you don't need anymore that's still in decent condition. This could include books, small furniture pieces, clothes, kitchenware, toys, or anything else you can think of!
Next, get creative with your advertising—this includes setting up an online advertisement and putting signs around your local neighborhood.
How to get people to come to my garage sale
Many sites and mobile apps are made for garage sales, such as Yardsalesearch.com, Gsalr.com, and GarageSaleFinder.com.

Traditional classified ads for the local newspaper would work wonders for your next garage sale, and for the free option, you can also use Facebook Marketplace and Craigslist.org.
Once you're all set up, the real work begins. First, talk to your customers and help them find items they like at reasonable prices. If possible, throw in a few special deals for those who buy multiple items.
In addition to selling items outright, you might consider trading goods with people or offering bartering services.
For example, if someone doesn't necessarily have cash on hand but has something else you need or want (like video games), offer a trade instead!
You may be surprised by how much people are willing to part with if they think they're getting a good deal in return.
As long as you approach it with enthusiasm and dedication to customer service, garages selling can be an enjoyable way to make quick money in one day!
Take online survey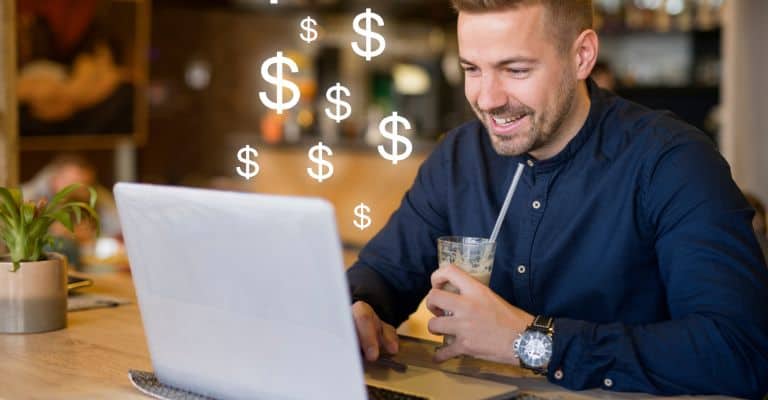 Participating in online surveys is a great way to make quick money. Companies and research firms understand that the best way to get accurate feedback about their product or service is by asking those who've used it. As such, they're willing to pay consumers for their opinions.
Getting started is easy: Sign up with one or more survey sites and answer a few basic questions so they can match you with relevant surveys.
With this method, you won't be making mountains of cash immediately, but depending on how many surveys you complete daily, it can add up over time, and it is one of the easiest make money online methods.
Best survey sites on the web
Respondent.io
Swagbucks.com
SurveyJunkie.com
PandaResearch.com
Rakuten Insight
Many survey sites offer additional income sources such as watching videos, playing games, and testing new products and services. Plus, some even provide extra bonuses for referring your friends! Bonus money can often be redeemed for gift cards, merchandise, or quick cash payments via PayPal.
Joining survey sites certainly answers the question of how to make quick money in one day, so try participating in online surveys today!
Just be sure to do your research before signing up. Some survey sites will reward you handsomely for just a few minutes of your time.
Refer friends and earn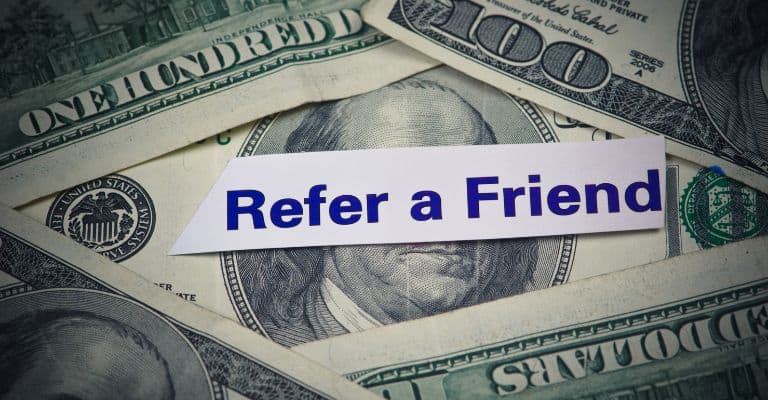 Referring to friends is an easy and rewarding way to make money. But first, you must share a referral link with your friends, family, or network and get them to join the service or event you're promoting.
Depending on the company/brand, you can earn anywhere from a few dollars up to hundreds just for referring someone—it's that simple!
There are plenty of ways to promote your referral link too. For example, you can post it on your social media pages, write about it in blog posts or email newsletters, or even print out the link and hand it out at events.
Additionally, many companies offer nice-looking referral cards that allow people to quickly scan the code or type in the URL without too much effort.
Best refer to earn programs.
Acorns.com
InboxDollars.com
Paypal Honey
So if you're looking for a great way to make money fast without putting in too much work, why not give referring friends a try?
Just read through any company's terms and conditions first to ensure that both parties know all the details before signing up!
Earn cash back from shopping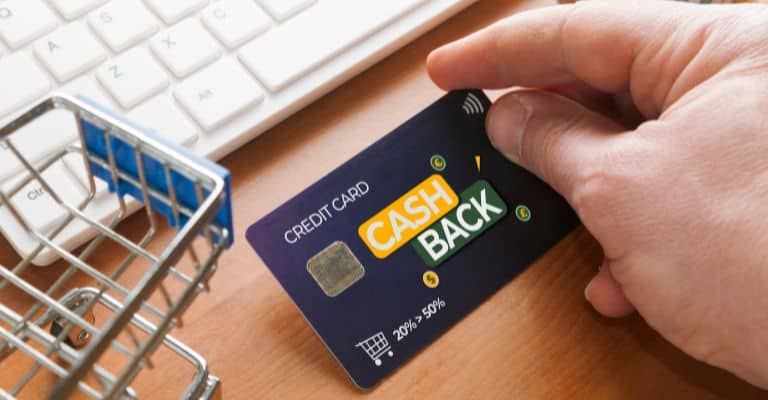 Earning cash back from shopping is a great way to save money without making huge sacrifices.
You must sign up with a cash-back rewards program and purchase through their affiliated stores and websites or using a particular rewards credit card.
When you shop, look for promotional offers that give extra cash-back bonuses. Some programs even offer additional discounts if you combine store promotions with coupons or special codes.
Best cash-back programs
Rakuten.com
PayPal Honey
Slickdeals.net
Plus, many apps allow you to compare prices between different online retailers and discover the best deals for each product.
So if you're looking for an easy way to save money quickly while shopping, try earning cash-back rewards! With just a little effort and research, it can be easy to get more bang for your buck—and in the end, who doesn't like free money?
Renting out your car using a car-sharing platform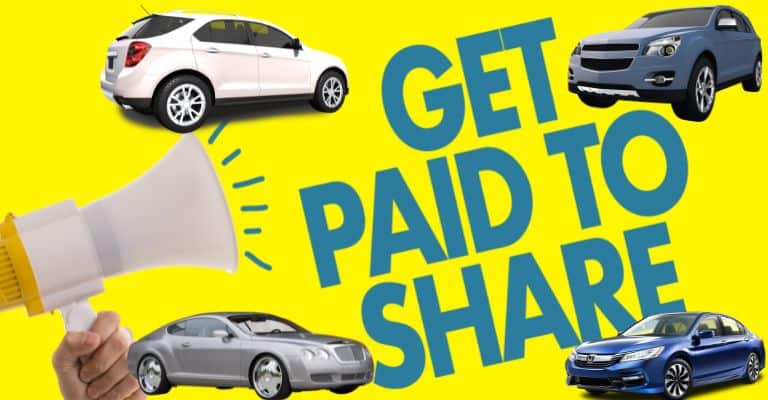 Renting your car can be a great way to make money fast without too much effort! All you have to do is list your vehicle on a car-sharing platform and allow people to book it for short-term rental.
Depending on the company or service, you could earn anywhere from $50 to $250 per day.
Before getting started, it's essential to check with your local laws and regulations, as some states don't permit private individuals to rent out their vehicles.
Additionally, most companies will want proof of insurance before listing the car on their platform.
Once everything is set up, it's time to start making money! Some platforms offer additional services, such as maintenance or cleaning, that could increase your earnings.
And since you'll be interacting with customers through the app or website, be sure to provide excellent customer service so that they're more likely to book with you again.
Top Car Sharing Platforms
Turo
GetAround
So if you've got an extra car just sitting around in the driveway, why not give renting it out a try? With very little work involved, it can be a great way to make extra income!
Open a new bank account with a bonus offer.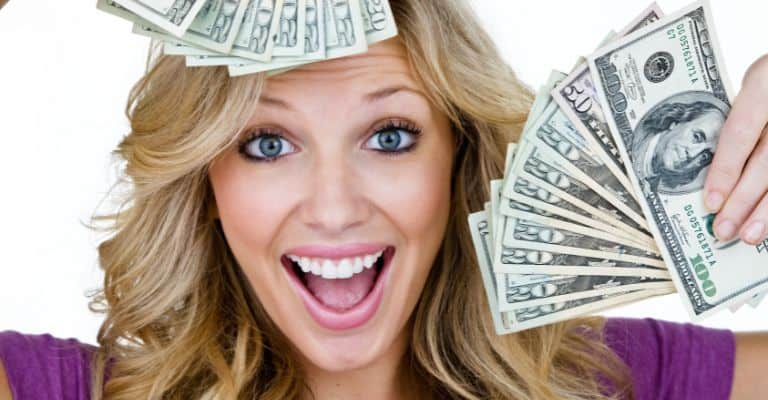 Opening a new bank account with bonus offers is an easy answer to our questions of "how to make quick money in one day" with minimal effort, as most banks, credit cards, and other financial services nowadays have introductory bonuses when you sign up for their accounts.
These bonuses can range anywhere from a few hundred to several thousand dollars—all for simply opening a new account!
Before you get started, it's essential to read the terms and conditions carefully. Many of these offers come with catches that could cause you to lose out on the bonus if specific requirements aren't met.
For example, some promotions may be tied to direct deposits, while others may require a certain amount of spending.
To reap the full benefits of your bonus, be sure not to close your account before the predetermined requirement date.
Financial institutions with bonus offers:
JP Morgan & Chase
Bank Of America
PNC Bank
Capital One
American Express
Citibank
TD Bank
Regions Bank
Additionally, you'll want to ensure the offer isn't too good to be true and that the fees associated with the account aren't higher than usual.
Once everything checks out, you'll have to open up a new account and meet any requirements to qualify for the bonus.
Just remember to keep track of all your accounts so that you don't miss out on any additional promotions or rewards.
Earn money while driving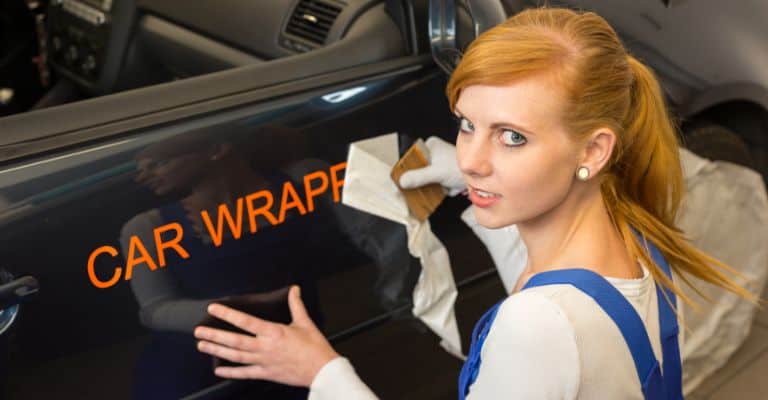 Did you know that you can make money by driving around with magnetic stickers on your car? It's true! Letting advertisers put decals or magnetic stickers on your vehicle is a great way to earn extra money without having to do much.
The process is simple: sign up with an advertising platform, upload photos of your vehicle, and wait for offers.
Depending on the size and placement of the decal on your car, you could earn cash anywhere from a few hundred to several thousand dollars a year.
Best car advertising companies
Carvertise
Free Car Media
ReferralCars
StickerRide
Wrapify
Stickr
Before getting started, it's essential to read the terms and conditions carefully, as some programs require regular mileage or prohibit certain areas from being driven through.
Additionally, be sure to check any applicable local laws and regulations that may exist regarding advertising displays on vehicles.
Once everything is set up, all that's left to do is drive around with the decals and enjoy your earnings!
There may be other requirements, such as monthly verification photos, but it is easy to do and more money in your bank.
Exchange your old tablets or phones for money fast
Selling used tablets and phones online is a great way to make money fast. You can make money by selling them in person or through an online marketplace:
Best online marketplaces to sell used tablets and phones
eBay
Craigslist
Facebook Marketplace
Decluttr.com
Before getting started, you'll want to be sure that your device is working properly and has no visible damage to the functioning parts.
Also, ensure not to erase any of the data on the device unless you're comfortable with it being wiped clean for the next user.
Once everything looks good, start your listing! First, decide on an appropriate price range and offer a few photos of your device and any features or information that may help increase its appeal.
Be honest about its condition and any problems that may exist so that customers know exactly what they're getting.
List accessories and include other enhancements to add value to your items. If you have additional chargers, cables, screen protectors, or cases, throw them in as a bundle.
Work a gig on the side.
A side gig is a great way to earn money immediately without making a long-term commitment.
This type of flexible job can help you make some extra cash for now and possibly build a career in the future.
The endless possibilities regarding side gigs: Tutoring, delivering groceries, or being an online assistant or virtual assistant.
There are also opportunities for proofreading and editing, writing content and social media posts, web development, data entry, graphic design, and so much more.
For more side hustle ideas, please read our article on the 99 best side hustles.
When picking out a side gig to pursue, think about your skills or interests that could apply to the job. Also, don't forget to research the most popular jobs in your area and compare different types of services offered by various platforms.
Once you've chosen something that fits your needs, start looking for clients!
Depending on your location, community resources such as Facebook Groups or specialized websites may be dedicated to connecting freelancers with potential employers.
But don't forget to market yourself on social media platforms with your skills and services too!
Recover unclaimed funds
Searching unclaimed money websites can be a great way to get your hands on some extra cash. Unclaimed funds are money or assets their rightful owners have not claimed.
They may be from forgotten bank accounts, insurance benefits, overpaid bills, estates of deceased persons, and more.
Best Unclaimed Properties Search
Getting started is easy. Simply find a reliable website searching for unclaimed funds. Some examples include:

MissingMoney.com, the National Association of Unclaimed Property Administrators (NAUPA), and official government sites such as those provided by the United States Department of Treasury or individual states.

Florida Unclaimed Property official website, if you do not live in Florida, you may have to search for your own state's official agency.
Once you've found an unclaimed fund website you trust, begin your search! You may need to provide personal details, such as your full name and past addresses, to start looking for any unclaimed funds associated with you.
Don't worry though, the process is safe and secure so that no one can access your information without your knowledge or permission.
If you find something that belongs to you, contact the appropriate agency or department immediately to claim it.
Be sure to gather all required documents beforehand and follow the necessary steps to retrieve what's rightfully yours successfully.
Participate in class action lawsuits
Participating in class action lawsuits is an outstanding way to get quick cash. This type of lawsuit occurs when a group of people, usually with similar experiences and grievances, band together against an entity—typically a large corporation—to seek compensation for their issues.
Class action lawsuits have become an increasingly popular way to hold organizations accountable for their actions and potentially win back damages or other forms of legal relief.
The process typically starts with filing a complaint by a lead plaintiff that outlines what occurred and the issues that need to be addressed.
Once a lawsuit has been filed, individuals who believe they were affected by the same problem can join the case as class members.
If you think you may qualify as a class member, your next step should be to research, and here is an organization that has done all of the work for you:
Best class action lawsuits search
Topclassactions.com
Classactionrebates.com
If you decide to join, you must understand your rights regarding compensatory damages and other remedies, such as injunctive relief or policy changes that could benefit everyone involved in the lawsuit.
So if you're looking for an opportunity to make some extra money while at the same time helping to hold those who may have wronged others accountable, look into joining class action lawsuits today!
Get paid to review books.
Reading and reviewing books can be an enjoyable way to make some extra cash.
You can get paid for reading and reviewing books in various ways, from taking on freelance projects to joining book review websites.
Freelance projects are great for those who want more control over what they read and review.
To get started, create a profile on freelancing websites such as Upwork or Fiverr, where you can advertise your services as a book reviewer and list the types of books and topics that you're comfortable writing about.
You may also find it helpful to join online communities geared explicitly towards freelance writers so that you can link up with potential clients looking for reviews.
If you're not interested in doing freelance work, another option is to join book review websites.
Best book review sites
Kirkus Review
Online Book Club
Instaread
These sites often function like online marketplaces where authors pay reviewers to read their books and provide honest feedback.
They usually have easy-to-navigate platforms through which you can search for available titles that match your interests, rate the ones that pique your interest, acquire them for free (or at discounted rates), read them, then leave detailed reviews once finished.
So if you've got an eye for literary criticism and a knack for articulating your thoughts on paper, why not consider getting paid for reading and reviewing books today?
Rent your space
Space rentals are a great way to make some extra money.
Whether you have an extra bedroom, a basement suite, or just an unused space in your home, renting it out can provide you with additional income that can come in handy.
Listing and offering rental spaces typically starts with figuring out the type of space you're interested in presenting to potential renters.
This could include bedrooms, entire apartments, storage units—essentially anything someone might need and be willing to pay for short-term use.
Considering factors, including the size of the rental space and its amenities, will help you determine how much rent to charge your renters.
It's also important to consider local laws so your rental complies with applicable regulations.
The good news is that there are specially designed platforms to help you figure out the complexities of renting your space, making your life a little easier.
Best space-renting platforms
Neighbor.com
Airbnb.com
Vrbo
Booking.com
Homestay.com
Once you understand the basics of setting up a rental space, it's time to start marketing the property.
This is usually done through online outlets or by word-of-mouth advertising.
Advertising your rental on social media platforms or listing sites like Airbnb can help draw attention and potentially attract more renters.
Run errands for people
Running errands with Instacart and Thumbtack can be a great way to make money.
Instacart pays you for grocery shopping from local stores to customers' homes.
With Thumbtack, you get paid for errands like delivering documents, picking up dry cleaning, moving furniture, or any odd jobs around the house.
How to get started
Thumbstack.com
Taskrabbit.com
Instacart.com
To start with Instacart, you must sign up and complete the online application process. Once approved, you'll begin receiving orders from customers.
For Thumbtack jobs, you'll search for tasks in your area and apply for those that fit your skillset and schedule.
To make the most out of your errand-running gigs, it's important to be organized and efficient. Make sure that each job is completed on time and that any special instructions are followed in the letter. It also helps to build positive customer relationships – respond promptly to messages and leave feedback when possible. Lastly, keep your work area tidy – this will help ensure that more jobs come your way in the future!
Like InstaCart, you may consider food delivery services such as Uber Eats. It is the same type of gig, but you deliver food instead.
Food Delivery Gigs
Uber Eats
Grubhub
DoorDash
PostMates
Flip things for quick money online
Flipping items to make quick cash is a great way to generate income with minimal upfront effort.
The basic premise of things flipping involves finding value items online, retail, or in secondhand stores, then reselling them online at a higher price.
The first step in flipping items for profit is scoping out sources of potential products.
You may want to check online auction websites and local stores for underpriced items or hidden gems, or you could even keep an eye out while wandering the streets.
It's worth keeping your eyes peeled for anything worth more than what it's currently selling for.
Retail Arbitrage
Retail arbitrage has become an increasingly popular way to make money by leveraging small price discrepancies between products.
Here's how it works: you scout around for deals on items that can be found cheaper in retail stores than online, then buy them and resell them at a higher price or a lower cost than what's offered online.
You can look for discounted items in Walmart, Costco, and Target, to name a few. Alternatively, you can shop online for discounted deals during special promotions such as Black Friday or Cyber Monday.
Once you've identified some prospective pieces, creating a pricing strategy is important, and you want to list your items just a penny cheaper than what's listed online.
Best marketplace to list your items
Amazon.com
eBay.com
Etsy.com
Walmart.com
After setting your prices, it's time to ship your items to the fulfillment warehouse.
You can use Amazon FBA, which will take care of everything for you, from selling to shipping, leaving you with more money and time to enjoy your day.
Website Flipping
Website flipping is an increasingly popular business model that allows entrepreneurs to buy, improve, and sell websites for profit.
The basic premise of website flipping involves investing time and money into undervalued websites, making improvements, and then selling them for a higher price than their original purchase.
The profits can be substantial when done correctly, and it is one of the most lucrative ways to make money online.
The first step in website flipping is finding good deals on websites.
The best platform to buy and sell websites
flippa.com
Godaddy.com
You want to look for sites that offer the potential for maximum profits without needing too much improvement or investment of additional resources.
To find these opportunities, you can search online auctions or secondhand marketplaces specifically designed for website purchases or even keep your eyes alert while browsing social media groups related to web design and development.
Once you've identified some potential investments, it's time to research the sites themselves—it's important to understand who owns the site and its current market value. Hence, you know exactly what you're getting yourself into.
Websites with profit potential usually generate decent money online but are not substantial enough to quit your day job.
You can turn the site around with the proper know-how and monetization method with a few simple tweaks.
Domain Flipping
Domain flipping has become an increasingly popular business model in the last decade, allowing entrepreneurs to buy, own, and resell domain names for profit.
Here's how it works: you scout around for domains with potential value, acquire them at a low cost, usually $8.95, and then sell them at higher prices, anywhere from $199 to $25,000+
The first step in domain flipping is finding valuable domain names.
This could involve scouring online auction sites or social media groups designed explicitly for such purchases.
The best platform to buy and sell domain names
Godaddy.com
Or you can register catchphrases or words that may someday become valuable.
Other avenues include buying expired domains and relisting them on domain resell sites.
Because of the nature of domain names, sometimes it may take years before a sale comes through (not a quick money method), but considering the investment, it is probably the best return for your money.
Service Flipping
Fiverr service flipping is an innovative way to make money online.
It involves buying services from Fiverr, then reselling them at a higher price.
You can do this on other gig platforms such as Upwork or Etsy; your imagination is the limit.
The first step in service flipping is finding the right services to offer. Next, you want to look for popular gigs in high demand.
Services could include logo design, web development, SEO, writing, graphic design, and more.
You'll need to research what other people are offering and narrow your list based on user ratings and customer reviews.
Once you know which services you'll be flipping, it's crucial to create a pricing strategy by factoring in both the cost of the gig itself and any additional fees so that your product offering remains profitable.
The best platform to buy and sell services
Fiverr.com
Upwork.com
Etsy.com
After setting up your list of services and their prices, it's time to start promoting them, and you can do this via social media channels or by joining communities related to the particular topic you're selling (for example, if you're selling logo design then join relevant subreddits on Reddit).
It also helps if you include engaging descriptions and visuals, this will help draw potential customers looking for quality offerings.
Books Flipping
Book flipping is an increasingly popular way to make quick money selling used books on Amazon.
With the proper knowledge and strategy, acquiring used books at a low price is possible, then listing them online for a profit. Here's how it works:
Start by researching book marketplaces to find good deals—you can look at used bookstores, garage sales, auctions, and even individual sellers.
When choosing which books to buy, remember that people often search for particular genres or titles, so don't just buy any old book you come across – pick ones that have potential value.
Once you've identified some prospective purchases, calculate their purchase price plus shipping costs as accurately as possible so you'll know your exact investment.
Always use apps like amazon.com to double-check the current listing price.
Once you've acquired the books you want to flip, head to Amazon Marketplace, and list them for sale, also, double-check to see if Amazon is accepting trade-ins for your title.
If a trade-in is available through Amazon, you may be eligible for quick money through Amazon gift cards.
You can always sell any unused gift cards online via sites like CardCash, GiftCash, and CardSell.
Your pricing strategy must consider the book's condition (which affects its value) and applicable fees from Amazon (such as a commission fee). I'd recommend listing it for just a penny less than the current price.
After listing your items on Amazon Marketplace, monitor your sales progress—if a particular title isn't selling well, consider lowering the price or changing its keywords/description to increase visibility.
Wrapping Up
Making quick money in one day is possible if you have the right skills and knowledge. From gig work to taking surveys to sell unwanted items, there are plenty of ways to make extra money fast.
There's something out there for everyone. The key to success is finding something that suits your skills or interests and managing your time effectively. With the right strategy and hard work, one can make a significant amount of money in one day. So why not give it a go today?