Affiliate Marketing For Beginners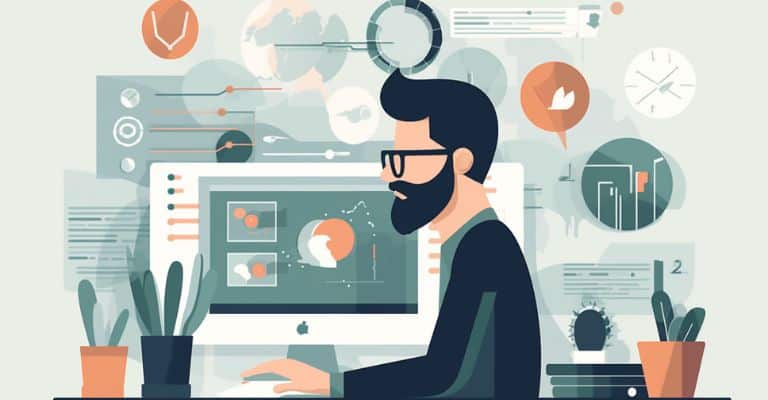 Here's our affiliate marketing for beginners guide.
So, you've heard the buzz about affiliate marketing and can't help but wonder if it's time to jump on board.
Well, buckle up, my friend, because we're about to dive into one of the most innovative ways for beginners like yourself to create a steady stream of passive income online!
With countless success stories out there, it's no surprise that people are eager to learn how they, too, can become part of this ever-growing community.
Don't be fooled by those who say it's as easy as pie – I won't sugarcoat it; building your affiliate marketing empire takes dedication, effort, and patience.
But fear not! As an experienced affiliate marketer, I'm here to guide you through the ins and outs of this exciting world.
👩‍💻🌐🚀💡🔗🛍️😁💸🏖️🍹Translation: "Work online, skyrocket ideas, link products, make people happy, earn money, and enjoy beach vacations!"
Click To Tweet
So please sit back, relax, and let me take you on a journey through the realm of opportunities that await in our comprehensive beginner's guide to affiliate marketing!
What Is Affiliate Marketing?
Have you ever wondered how to make the most of reaching audiences while maximizing profits?
Affiliate marketing is your answer, and it's easier than you think for beginners to get started.
By building relationships with brands and creating content that showcases their products, you'll find yourself on the path to financial success in no time.
Interesting Fact:
Affiliate marketing is performance-based marketing, where affiliates promote products or services and earn a commission for each sale, lead, or action driven by their efforts.
Not only will affiliate marketing help expand your reach through innovative strategies like finding products that resonate with your audience, but it also allows you to tap into a lucrative income stream without the need for extensive product development or inventory management.
It's an exciting opportunity filled with potential – so why not dive right in?
Benefits Of Affiliate Marketing
One of the most significant benefits of affiliate marketing is the potential for cost savings and passive income generation. As an affiliate marketer, you'll have access to a wide range of products and services catering to your target audience at no added expense, allowing you to focus on promoting these offerings through your preferred channels without worrying about inventory management or shipping costs.
Another advantage that should not be overlooked is the opportunity to build relationships with merchants and customers while honing your website optimization skills.
Key Takeaway:
Affiliate marketing is popular among content creators because it allows them to monetize their content without relying solely on advertising revenue.
By engaging with others in this industry, you can learn valuable tips and tricks from seasoned professionals that will help keep your content fresh and innovative.
This collaboration fosters growth and success within the affiliate marketing world, making it an ideal venture for those seeking creative ways to expand their digital reach.
Types Of Affiliate Programs
When diving into affiliate marketing, it's easy to feel overwhelmed by the variety of programs available. Yet, that abundance presents many opportunities for beginners looking to make their mark.
Let's explore some common types of affiliate programs and how they can benefit you.
Pay per sale, cost per click, and revenue sharing – are just a few examples of the diverse options in affiliate marketing. -Two-tier commissions offer additional earnings through referrals, while lead generation provides valuable connections between businesses and potential customers.
To help clarify your choices, take a look at this table which breaks down each type:
| Type | Description | Benefits |
| --- | --- | --- |
| Pay Per Sale | Earn commission when referred customer completes a purchase | High earning potential |
| Cost Per Click | Get paid based on clicks generated from ads or links | Easy implementation; low risk |
| Revenue Sharing | Receive percentage-based compensation from sales | Long-term residual income |
| Two Tier Commissions | Gain rewards from direct referrals as well as their referral activities | Increased passive income |
| Lead Generation | Connect businesses with prospective clients | Build relationships; versatile business applications |
Innovative approaches keep affiliate marketing fresh and exciting, providing countless possibilities for aspiring marketers like yourself. By evaluating different program structures and understanding what works best for your unique skills and goals, you can tap into new revenue streams and pave your way toward success in this ever-evolving industry.
How To Choose A Program
So, you've taken the plunge into the exciting affiliate marketing world – congrats! Now comes one of the most crucial steps: choosing a program that aligns with your goals and interests.
As a beginner, evaluating options and understanding terms is essential before committing to any offer. This can make all the difference between success and frustration down the line.
Remember that not all offers are created equal when selecting an affiliate program. Choosing those with high conversion rates, competitive commissions, and reliable tracking metrics is vital for optimal results.
By analyzing these factors and putting in the legwork upfront, you'll be well on your way to building a successful affiliate marketing venture that continually innovates and evolves as you grow more skilled in this dynamic field.
Setting Up An Affiliate Account
When starting with affiliate marketing, one of the first steps is to choose an affiliate network and sign up for an account. Once you've selected your network, setting up the account is straightforward and should only take a few minutes.
Choosing An Affiliate Network
You must understand that choosing an affiliate network is a critical step in setting up your affiliate account and shouldn't be taken lightly.
By carefully selecting criteria when comparing networks, you can find the ideal platform that matches your needs and goals.
As an affiliate marketing specialist, I recommend evaluating options such as commission rates, payment terms, available offers across various niches, and the overall reputation of the network within the industry.
Don't forget to watch for innovative features and tools these platforms provide – after all, who wouldn't want a cutting-edge advantage over their competition?
So dive into those comparisons, and find the perfect fit for your thriving affiliate venture!
Setting Up An Account
Now that you've done your due diligence in researching requirements, understanding rules, and selecting networks, it's time to take the plunge and set up your affiliate account!
As an affiliate marketing specialist, I can't stress enough how vital this step is for success. You'll want to ensure you provide accurate information when registering, as this will impact payment processing and overall reputation within the network.
Remember, innovation is critical in today's fast-paced digital landscape – so don't be afraid to explore new tools and strategies once your account is up and running. However, keep pushing those boundaries while staying true to industry regulations; a successful entrepreneur knows how important it is to strike that perfect balance between creativity and compliance.
Promoting Affiliate Products
Once you've mastered the art of finding offers, it's time to focus on promoting affiliate products effectively.
This often involves creating ads that captivate your audience, reviewing products honestly and informally, and building relationships with customers who trust your recommendations.
By skillfully combining these tactics, you can drive traffic to your affiliate links and see those commissions rolling in.
As an innovative marketer always searching for the next big thing, exploring new methods of driving traffic can give you an edge over competitors.
Social media platforms constantly evolve, so stay updated with their ad formats and algorithms to maximize your reach.
Remember that fostering genuine connections with consumers is critical; when they believe in the value of the product you endorse, they're more likely to convert into loyal customers.
Tracking Affiliate Sales
Like a skilled gardener tending to their flourishing plants, you must monitor your affiliate marketing campaigns and their growth.
This is where tracking affiliate sales comes into play – a vital aspect of measuring performance, selecting partners, evaluating offers, and keeping the momentum going.
In this digital jungle, understanding how well you're promoting products can be achieved through various tools designed for tracking progress.
Key Takeaway:
Affiliate marketers often use tools like Google Analytics, heatmaps, and A/B testing software to optimize campaigns and increase conversion rates.
Incentivizing affiliates with enticing commission rates or bonuses also plays an essential role in maintaining their motivation and driving higher conversions.
By constantly analyzing and fine-tuning your strategies based on these insights, you'll stay ahead of the curve and create a sustainable ecosystem for long-term success in affiliate marketing.
Generating Affiliate Revenue
I'm here to tell you about the basics of generating affiliate revenue. Finding affiliate offers can be the first step in getting started, and ensuring they're the right offers for your audience is essential. Once you've received your requests, it's time to start optimizing for performance. This means tweaking your content and testing different strategies. Finally, tracking performance is critical. It'll help you know what's working and what isn't so you can get the most out of your affiliate efforts.
Finding Affiliate Offers
Imagine a world where you can find the perfect affiliate offers with just a few clicks of your mouse, and watch as those offers generate significant revenue for your online business!
You no longer have to daydream about it – finding offers quickly is easier than ever.
With some savvy research on commission rates and effective networking with affiliates, you'll be well on your way to discovering profitable partnerships that align perfectly with your brand's values and audience interests.
So dive into the exciting realm of affiliate marketing, and unlock endless earning potential by exploring innovative ways to connect with top-tier brands offering highly sought-after products or services.
Optimizing For Performance
Now that you've mastered finding top-notch affiliate offers, it's time to optimize for performance and maximize your revenue potential.
As an affiliate marketing specialist, I can't stress the importance of measuring success, tracking analytics, and continuously improving your strategies.
To stay ahead in this creative space, monitor your campaigns' performance by monitoring conversion rates and overall engagement.
This way, you'll be able to identify what works best for your audience and optimize content accordingly – whether that means tweaking headlines, adjusting calls-to-action, or experimenting with different promotional tactics.
Remember: never settle for mediocrity when there's always room for improvement!
Tracking Performance
In the ever-evolving world of affiliate marketing, staying one step ahead is crucial to consistently tracking performance and leveraging data.
As an expert in generating affiliate revenue, I encourage you to take advantage of networking opportunities that'll help you develop innovative strategies for maximizing your profits.
By monitoring trends and analyzing key metrics, you can fine-tune your campaigns and make informed decisions on how best to engage with your target audience.
After all, when it comes to achieving success as an affiliate marketer, staying hungry for innovation separates the top earners from the rest of the pack.
Tips For Affiliate Success
Before starting your affiliate journey, choosing the right program that aligns with your interests and goals is essential. Once you've done that, you can focus on creating compelling content that will help you maximize your affiliate success.
Choosing The Right Program
Choosing the right program might seem daunting when you're just starting with affiliate marketing. But trust me; it doesn't have to be!
The key is focusing on website selection that aligns with your interests and expertise; this way, you'll feel more motivated to genuinely promote their products or services.
Next, consider traffic sources – how can you leverage social media platforms, SEO strategies, and paid ads for maximum reach?
Don't forget about content optimization either; engaging blog posts and captivating videos will keep your audience returning for more.
So dive into the affiliate marketing world with these tips, and watch those commissions roll in effortlessly!
Creating Effective Content
Now that you're all set with the right program and traffic sources let's talk about creating compelling content – because, trust me, it'll make or break your affiliate success.
You see, by combining different content formats like blog posts, videos, podcasts, and even email marketing with innovation-driven strategies for optimizing campaigns across various platforms, you'll reach a wider audience and keep them hooked on what you say.
Remember, folks — quality trumps quantity any day!
So go ahead and experiment with new ideas while staying true to your niche; after all, isn't that what keeps things exciting in this ever-evolving world of digital marketing?
Common Pitfalls To Avoid
As you embark on your affiliate marketing journey, you must know common pitfalls that can hinder your success.
One primary mistake beginners make is failing to research products and niches thoroughly; this can lead to promoting irrelevant or low-quality offers that won't convert.
Another error is overlooking fees associated with various platforms and tools, which can affect your profits if not adequately accounted for.
Diversification is critical in any business venture, and relying on one program alone puts you at risk of losing income should the program shut down or underperform.
Additionally, ignoring analytics and data-driven insights will leave you flying blind when making important decisions about optimizing campaigns and allocating resources effectively.
Interesting Fact:
The Federal Trade Commission (FTC) in the United States requires that affiliates disclose their relationship with the advertiser to maintain transparency and consumer trust.
Don't forget to keep a close eye on emerging trends as well – staying ahead of the curve means being open to innovation and adapting quickly to changes in consumer behavior and market conditions.
Conclusion
In conclusion, embarking on an affiliate marketing journey can be exciting and challenging.
I remember feeling overwhelmed by the plethora of programs and strategies when I started in this field. However, once I found my niche and learned to navigate various platforms, the rewards were worth every trial and error.
As an affiliate marketing specialist, I cannot stress enough the importance of persistence and continuous learning. The landscape constantly evolves, with new daily trends – like when chatbots took over customer service platforms overnight!
Beginners must stay informed about industry updates while honing their skills and refining their tactics regularly.
So don't be disheartened if your initial efforts don't yield immediate results – building momentum in this game takes time. Remember, Rome wasn't built in a day!
Keep experimenting with different affiliate programs until you find one that aligns well with your goals and interests. With dedication and perseverance, success will undoubtedly follow as you forge into the lucrative affiliate marketing world.