99 Best Under The Table Jobs That Pay Cash (2023)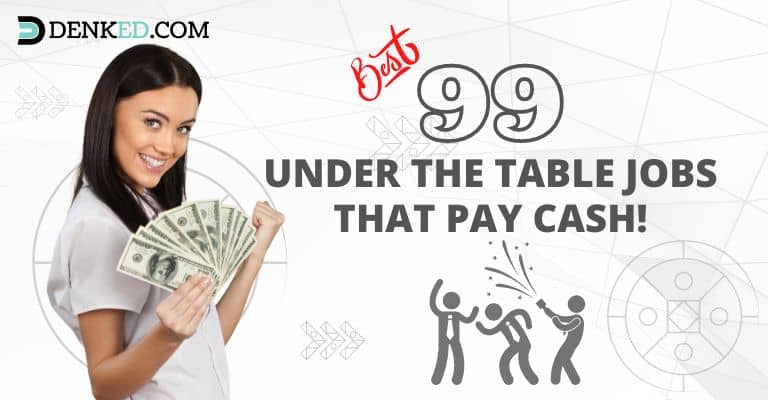 What gigs pay cash and are often known as paid under-the-table jobs?
The definition of under the table jobs has transformed as the gig economy exploded during the pandemic.
In the past, an under-the-table job typically referred to a position paid in cash instead of through payroll, but now it can also refer to cash jobs that are not traditional full-time jobs, such as gig work or freelance, generally works that pay cash.
If you're willing to think outside the box and take advantage of what the economy has to offer in 2023 and beyond, feel free to draw motivation below and start your own business, have more control over your hours, work from home (or anywhere you choose), and never deal with office politics again.
Note: These cash jobs are ideal opportunities for the gig economy but do not confuse it with avoiding paying taxes, as all should record and declare their earnings at tax time.
Disclosure: Some of the links in this article may contain affiliate links, which may provide compensation to me at no cost to you if you decide to purchase. These are products and services I've personally used and stand behind. This site is not intended to provide financial advice and is for entertainment only. You can read our affiliate disclosure in our privacy policy.
Best cash-paying jobs
Here's a list of the 99 cash-paying jobs in no particular order: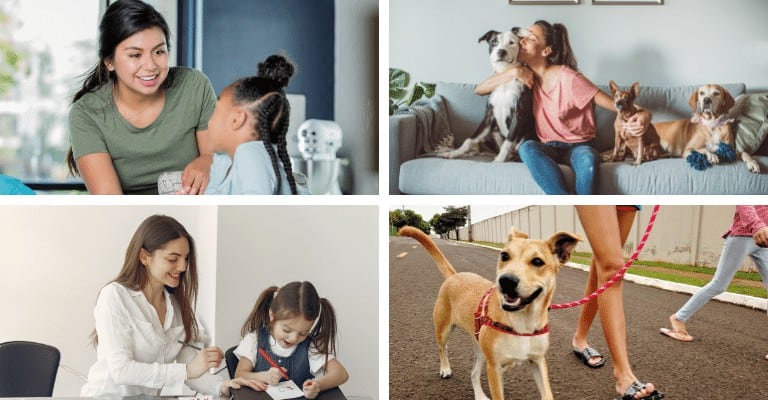 Pet sitting
The average pet-sitting gig rate in the US is $20 ~ $40 a day.
Much like babysitting jobs, pet parents usually pay cash for service rendered.
A pet sitter temporarily takes care of another person's pet at home or in the pet parent's house, walking and feeding as needed.
There are both pros and cons to being a pet sitter.
One of the main advantages is that you get to spend time with animals, which can be very rewarding. You also get to travel to different places and meet new people.
On the downside, you may have to deal with challenging pets, such as sickness or behavioral issues. You also might have to work odd hours, including night shifts. However, most pet parents pay cash plus tips for a well-done job.
Babysitter
The national average for Babysitters in the US is $13.70 per Hour. So babysitting is one of the best jobs that pay cash.
A babysitter is an adult or teenager who watches young children under 12 years of age and is often responsible for accompanying and putting the child to bed.
Babysitters are in high demand, as many parents need someone responsible for watching their children while they're otherwise occupied.
Parents typically pay cash and may offer extra money for grocery shopping, laundry, and taking care of pets in the house.
Most babysitting jobs are considered under-the-table jobs.
Tutoring
The national average for Elementary/Highschool level tutors In The US is $20 Per Hour. College or exceptional skill tutors make $75 ~ $100.
Tutoring can be an enriching experience. It's a great way to help students learn and grow and also a chance to build relationships that may last a lifetime.
If you're interested in tutoring, you should know a few things. First, you must be patient and have strong teaching skills. You should also be able to adapt to different teaching styles and be comfortable working with students one-on-one or in small groups.
Most tutors are self-employed. Therefore it is one of the best jobs that pay cash.
Dog Walking
The national average for dog walkers in the US is $13~$20 per Hour. Dog Walkers usually walk dogs in packs (sometimes up to 6 ~ 8 dogs simultaneously).
Dog Walking is considered one of the best cash jobs with little or no qualifications.
A dog walker is a person who takes dogs for a walk, providing them with exercise and relief from being cooped up indoors.
Dog walking as a gig can be lucrative, as there is a high demand for this service.
Dog walkers provide such a valuable service by taking on multiple dogs for a walk in a pack. It is beneficial to the dogs because it provides them with the opportunity to socialize and exercise.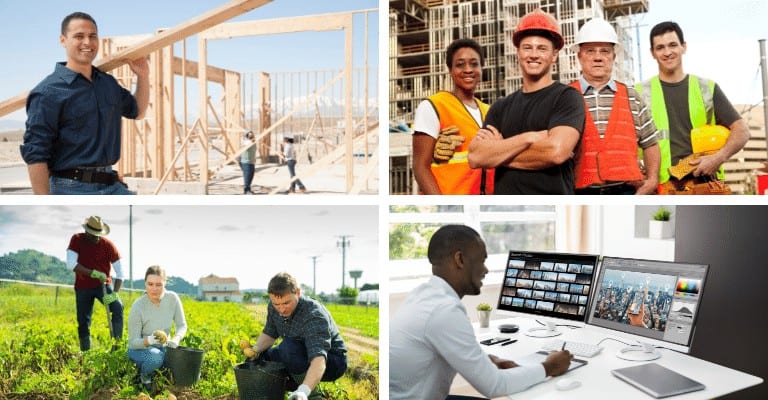 Day Labor
The average pay for a Day Laborer in the US is $16 per Hour.
A day laborer is hired by the day to do unskilled manual labor and is often paid cash. Day laborers are typically found near construction sites, home improvement stores, and other places where manual work is needed.
Day laborers' most common tasks include loading and unloading materials, digging trenches, and mixing concrete.
In addition to physical labor, day laborers may also be responsible for cleaning up job sites, painting, and other general maintenance tasks.
While the work is often physically demanding, employers usually pay cash at the end of the day.
Construction Work
The national average for Construction Workers in the US is $22 per Hour.
The duties of a temporary construction worker can vary depending on the construction site's needs.
Some everyday tasks include helping to build and erect scaffolding and loading and unloading construction materials.
In addition, temp construction workers may also be responsible for doing things like clearing debris, digging trenches, and performing basic repairs.
The hours can be long, and the work can be physically demanding, but temp construction workers are usually paid in cash at the end of the day.
Farm Worker
The national average for Tailors in the US is $15 per Hour.
Farm workers are responsible for various tasks related to the care and harvest of crops.
They may work in fields, greenhouses, orchards, or nurseries, and their duties may include planting, weeding, thinning, pruning, harvesting, and packaging produce.
Farm workers may also be responsible for operating farm equipment, caring for livestock, and performing general maintenance tasks. In many cases, they work closely with farmers or other agricultural professionals to ensure that crops are healthy and productive.
Farm workers typically work long hours outdoors in all weather conditions. The job can be physically demanding, and workers must often stoop, bend, or lift heavy objects.
Although most farm workers are hired on a seasonal basis, some positions may be available year-round. Seasonal farm workers typically get paid cash on a day-to-day basis.
Web designers
The national average for Web Designers in the US is $29 per Hour.
Web designers are in charge of creating and maintaining the look and feel of a website. First, they work with clients to develop designs that meet the client's needs, and then they create the website using HTML, CSS, and JavaScript, to name a few.
The pros of being a web designer are that you can often work from home, be creative, and choose your hours. The cons are that the job can be stressful, it's competitive to get jobs, and you need to be able to code.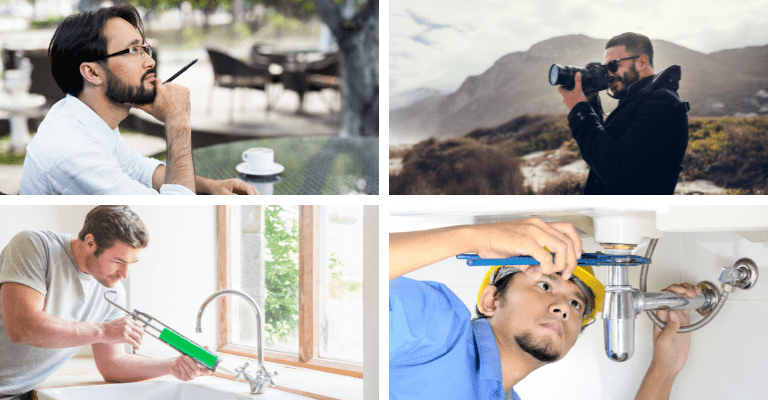 Freelance writer
The national average for a Freelance Writer in the US is $33 per Hour.
A freelance writer is someone who is self-employed and writes for different clients. For example, freelance writers can write for magazines, newspapers, websites, businesses, and more.
They often work from home and set their hours. While some freelance writers have a degree in journalism or English, others may have a background in a related field.
Nevertheless, all successful freelance writers share one trait: they are passionate about writing and excel at communicating their ideas clearly and concisely.
Photographer
The national average for experienced Photographers in the US is $22 per Hour.
Being a photographer can be very rewarding as you capture lifetime memories, work with people, and travel to different places.
However, the job can also be very demanding, as you may work long hours, deal with demanding clients, and spend a lot of time editing photos.
But if you're passionate about photography and bringing out the best moments in people, it can be a gratifying cash-paying job/career.
Selling photographs online is also a great way to make money, and it is considered as one of the best residual income streams for photographers.
Handyman
The national average for Handyman in the US is $50~$80 per Hour.
The handyman trade is very versatile and often considered under-the-table work.
A handyman is a person who can do a variety of jobs around the house, such as fixing leaks, painting, and changing lightbulbs. They usually don't require a contractor's license to do essential work, which makes them an excellent option for those looking for a job that pays cash.
Handymen can often work around your schedule and provide a quote for the job before they start, and they can earn extra cash if the work is completed quickly and efficiently.
Plumber
The national average for Plumbers in the US is $45 per Hour.
Plumbers may request to be paid extra money in emergencies, which often occur on weekends or after-hours.
A plumber is a skilled tradesman who installs and repairs water supply lines and drainage systems in homes and businesses. Plumbers often work long hours and may be on call 24/7 in case of an emergency.
They work with metal and plastic pipes and may use various tools to do their job, including soldering irons, pipe wrenches, and saws.
Plumbers and Electricians are in-demand jobs that pay cash and require a high skill level and training.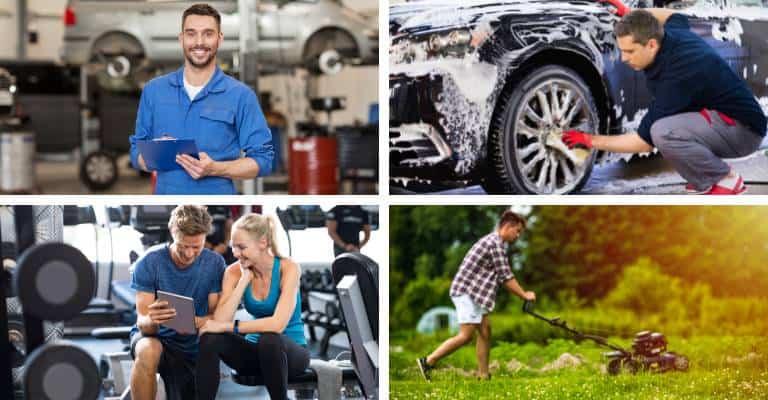 Auto Mechanic
The national average for Auto Mechanics in the US is $22 per Hour.
Auto Mechanics earn cash for onsite or mobile services.
An Auto Mechanic is a person who repairs and maintains automobiles. They may be responsible for oil lubing, fixing the brakes, changing the battery, swapping fuses, fixing flat tires, patching dents, and touching up scrapes and scratches.
Many auto mechanics also offer onsite services, which can be more lucrative than working in a shop. They earn good money by keeping your vehicle running and often receive tips in cash.
Mobile Car Wash
The national average for Mobile Cash Wash in the US is $40 ~ $80 per vehicle.
Mobile Car Wash is considered one of the best real cash-paying jobs today.
A mobile car wash is a service that comes to your house to clean your car. They usually use a high-pressure water hose and special car-washing detergents to clean the vehicle.
Services provided are car washing, car detailing, plastic dressing, engine cleaning, wheel dressing, and more…
Prices range from $50 to $250 per car while charging extra money for SUVs and other oversized vehicles.
Mobile car washes are becoming increasingly popular, with savvy operators offering their services at businesses to car owners during business hours, and most people pay cash for these services.
Personal Trainer
The national average for Personal Trainers in the US is $30 ~ $160 per session.
A personal trainer is a professional who helps people improve their physical fitness and appearance. They typically work one-on-one with clients, although some may offer group classes.
Personal trainers usually have a certification from a reputable organization, such as the National Academy of Sports Medicine (NASM), the American College of Sports Medicine (ACSM), or at the very least, an Action Personal Trainer Certification.
Landscaping / Yard Work
The national average for Landscapers in the US is $15 per Hour
Landscaping is one of the best under-the-table jobs on the list.
Landscaping work can be very lucrative, especially if you are good at it and have the proper tools.
Many customers pay cash for quick mowing and sometimes pay even more money to maintain the entire landscape, including trimming hedges and raking leaves.
You will need to invest in essential equipment, such as a lawn mower, leaf blower, and weed whacker. You may also consider getting a truck or trailer to haul the debris away.
If you can provide quality work at a fair price, you should have no problem finding customers for your service. A team of two can handle 8 to 10 houses in a few hours, making $500 to $600 for the day.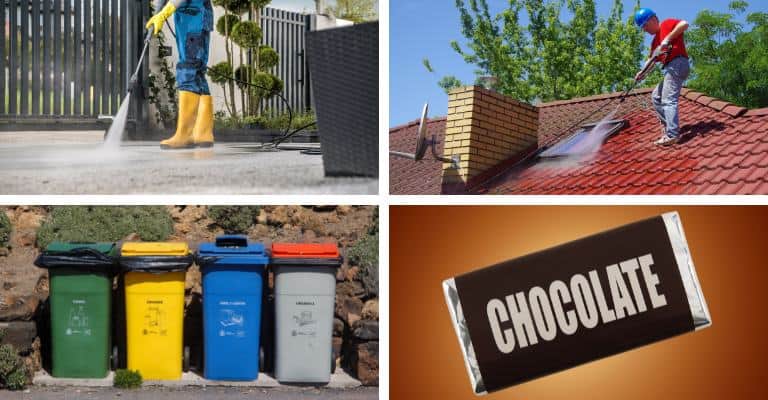 Driveway Pressure Washing
The national average for Pressure Washers in the US is $20 per Hour.
A driveway pressure washing business offers a service to homeowners and businesses to clean their driveways. They provide the equipment and expertise to safely and effectively remove dirt, grime, and other debris from concrete surfaces.
Pressure washing is an effective way to improve the curb appeal of a property and can also prolong the life of a driveway by preventing the build-up of harmful substances.
In addition to driveways, a pressure washing business can clean sidewalks, patios, decks, and other outdoor surfaces.
Roof Pressure Washing
The national average for Pressure Washers in the US is $20 per Hour.
A roof pressure washing company cleans roofs and powerwash walls and windows for local businesses and homes.
This type of business often uses high-pressure water jets to remove dirt, algae, and other debris from roofs and has a team of experienced workers familiar with the proper techniques for safely and effectively pressure washing roofs.
In addition to cleaning roofs, the same company may also offer gutter cleaning, window washing, power washing, and driveway cleaning.
Take out / Retrieve Garbage Bins
It is a creative way to make extra money, and you can charge $2 ~ $5 per house per week.
This cash-paying job is often paid in advance for the entire month.
For many people, taking out the trash is one of their least favorite chores. It's smelly, dirty, and difficult to lug heavy garbage bins to the curb and back.
What if someone comes up with a way to make this chore a little easier – and perhaps make some extra cash in the process?
Enter the "Trashbin Taker-Outer" service. For just $2 per week, they will take your garbage bins to the curb on trash day and retrieve them before you return from work.
If you do this for 400 homes in the neighborhood and make $41,600 a year working two days a week.
Selling Chocolate Bars Door to Door
It's a creative way to make money, and you can charge $2 per candy bar.
It is a cash-paying job used often for fundraising or awareness.
There's something about chocolate that can instantly put a smile on anyone's face. And that's why selling chocolate bars are a great way to make extra money, especially if you are a teenager who wants to earn money.
Whether you're selling door-to-door or on the street, there's no denying that people love chocolate. But before you start your new table job, you should keep a few things in mind.
First, always be respectful when approaching potential customers.
Second, be truthful about why you are selling chocolate bars.
Third, be prepared to offer a discount if someone shows interest.
And fourth, always have plenty of samples on hand!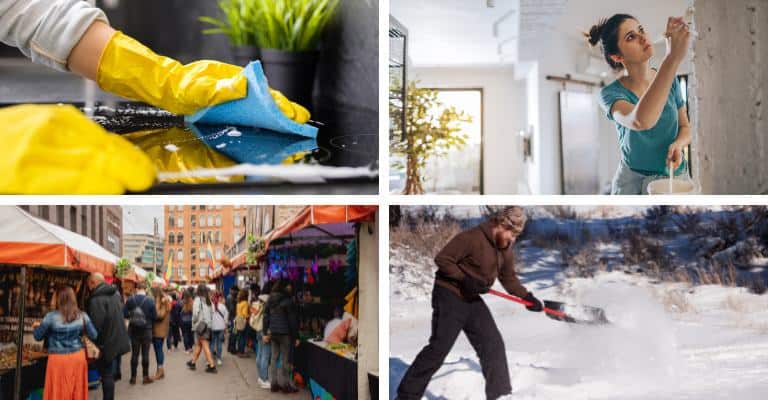 House Cleaning
The national average for House Cleaners in the US is $12.50 per Hour.
Home cleaning requires excellent attention to detail and can be very time-consuming. It includes vacuuming, mopping, dusting, cleaning toilets and showers, and taking out the trash.
Of course, the specific tasks will vary based on the size and layout of the house as well as the preferences of the homeowners. But a cleaning job is generally about making a house look its best.
House Painting
The national average for House Painters in the US is $18 per Hour.
House painters are responsible for painting the interior and exterior of homes. Therefore, they must be proficient in various painting techniques, including brushwork, proper use of paint rollers, and spray painting.
House painters must also be able to prepare the surface before being painted, which may involve stripping, sanding, and priming. Once the paint is dry, the painter may add details such as trim work or stenciling.
Flea Market Flipper
Flea Market Flipping is a cash business, but your earnings may vary per your experience and expertise.
A Flea Market Flipper buys items from a flea market, intending to sell them for a profit. To be successful, one must be able to find good deals and then resell the items quickly.
One way to find good deals is to look for items that are underpriced or overlooked by other shoppers.
Another way to find good deals is to wait until the end of the day when sellers are more likely to be negotiable on price.
After finding a good deal, they need to be able to resell the item quickly using platforms like eBay or Etsy, or other online marketplaces.
As with any business, a Flea Market Flipper must be patient to succeed.
Snow Removal
The national average for Snow Removal in the US is $25 ~ $70 per driveway.
You can start a snow removal business to earn extra money during winter. It can be a great way to stay active during the cold months while making extra money.
It is essential to provide a high-quality service to succeed; therefore, it means clearing driveways and sidewalks promptly, using proper equipment, and being careful not to damage anything.
You will have to do plenty of shoveling, blowing, and plowing.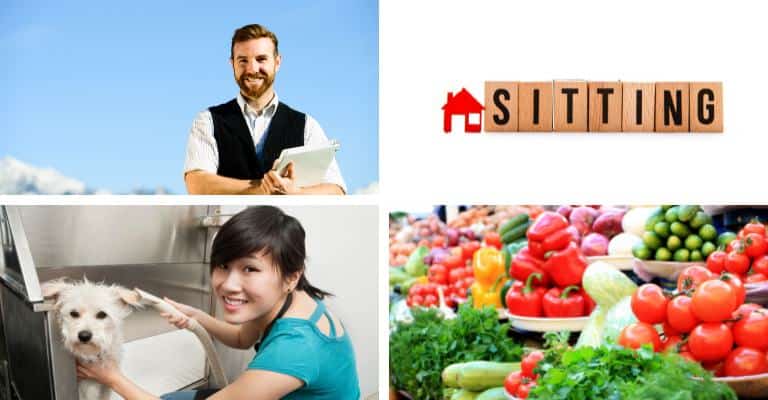 Personal Assistant
The national average for Personal Assistants in the US is $15 per Hour.
A Personal assistant is a professional who provides administrative, secretarial, or personal support to an individual or family. Their duties range from managing household tasks and scheduling appointments to handling correspondences.
Often, a personal assistant is also responsible for errands and travel arrangements. While the scope of their work can vary depending on their employer's needs, personal assistants are typically required to have excellent organizational skills and the ability to multitask.
House Sitting
The national average for House Sitting in the US is $27 per Hour.
House Sitting provides a valuable service to homeowners by taking on the responsibility of caring for their homes while they are away. It can include tasks such as watering plants, collecting mail, and taking out the trash.
House sitting can also provide security by keeping an eye on the property and deterring burglars. In some cases, they may even be responsible for caring for pets.
Homeowners can rest assured knowing that their house is in good hands while they are away.
Mobile Pet Grooming
The national average for Mobile Pet Groomers in the US is $23 per Hour.
Mobile pet groomers provide a convenient and stress-free grooming experience for pets and their parents.
Unlike traditional groomers, mobile groomers come to the customer's home or office, eliminating the need for travel.
They also offer a wide range of services, from simple baths and haircuts to more comprehensive grooming packages that include nail trimming, ear cleaning, and anal gland expression.
In addition, mobile groomers can often accommodate special requests, such as flea and tick treatment.
Farmer's Market
If you're growing fruits and vegetables, you may want to sell them at the local farmer's market at harvest time, so here are a few things you can do to ensure you are making good money.
First, research your audience and find out what products they're looking for and how much the supermarkets charge. Then, be sure to price your items accordingly.
It's important to remember that people who shop at farmer's markets may not look only for bargains, especially with the shift in focus to healthier diets, so it's essential to strike a balance between making a profit and offering fair prices.
Additionally, ensure your products are of top quality and show only the best-looking items you have at hand, as people are more likely to buy things that look like they're worth the money.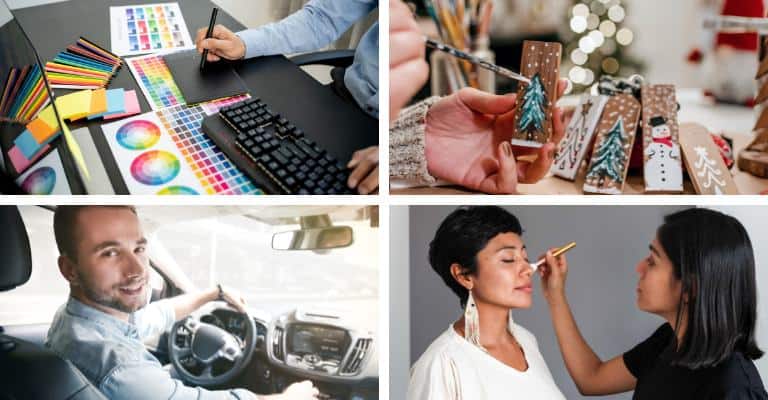 Graphic Design
The national average for Graphic Designers in the US is $27 per Hour.
A professional graphic designer uses art and page layout skills to design visual compositions.
Common uses for graphic design include corporate branding, advertisements, product packaging, and website design.
Graphic designers work with their clients to determine a project's overall look and feel and then use their artistic skills to create visually appealing designs.
Selling Crafts
If you're good at making crafts, you might consider turning your hobby into a business. However, before you start, it's essential to understand the market for crafts and what potential customers look for.
If you live in a tourist city, you might want to make and sell souvenirs representing your city's culture or history.
Alternatively, if you live in a rural area, you could focus on selling handmade items inspired by nature.
If you decide to venture online with your business, creating a professional website and using social media to promote your products are essential. One of the best online marketplaces is Etsy, which has helped hundreds of thousands of creators make good money daily, and you, too, can turn your hobby into a successful business.
Driving (Uber)
The national average for Uber drivers in the US is $8.55 ~ $11.77 per Hour.
AsHourUber driver, you will use your vehicle to transport passengers around your city or town. You can choose your own hours and work as much or as little as you like.
Uber drivers must be at least 21 years old and have a valid driver's license. In addition, you must have a clean driving record and pass a background check.
Once approved to drive for Uber, you will use the Uber app to accept ride requests from passengers. You will then pick up the passenger and take them to their destination.
After the ride is complete, you will receive payment through the app.
Makeup Artist
The national average for Makeup Artists in the US is $31 per Hour.
Makeup artists are responsible for making their clients look their best. First, they must understand the client's desired look and then use their skills to create it.
A makeup artist must be skilled in using all different types of makeup, from foundation to eyeliner. They must also be familiar with various techniques, such as contouring and highlighting.
In addition, makeup artists must be able to work with different skin types and tones to create a flattering look.
Anyone who has ever gone to a salon knows that a good makeup artist is worth their weight in gold!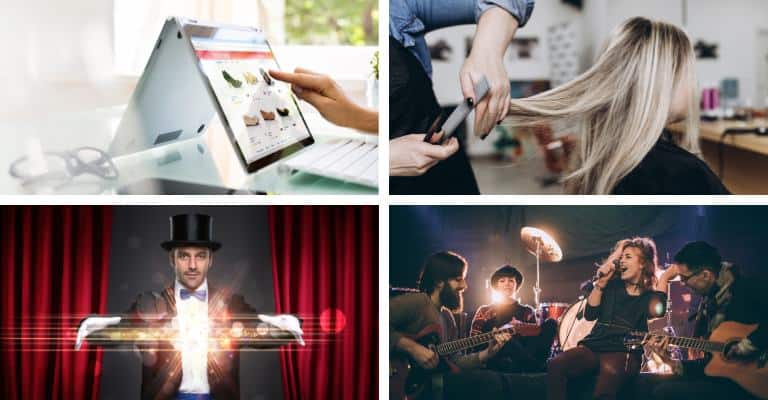 Resell Items (Retail Arbitrage)
The amount of money you make depends on your effort, time, and expertise.
Retail arbitrage is the process of buying products from one retail store and selling them at a higher price at another retail store. It can be done online or in person.
The key to successful retail arbitrage is finding products selling for less than they are worth. It can be done by researching prices online, comparing prices between different stores, or negotiating with the retailer.
Once you have found a product you can sell for a profit, you must purchase it and find a buyer willing to pay your asking price.
Many resell items at online marketplaces such as Walmart, Amazon, and eBay for a 30~80% profit margin.
Hairdresser
The national average for Hairdressers in the US is $16 per Hour.
A hairdresser is a professional who offers hairstyling and haircare services. Hairdressers may work in a salon, barbershop, or on their own. Services provided by hairdressers may include haircuts, hair color, hair treatment, and hair styling.
Hairdressers typically have completed a cosmetology program and are licensed by the state where they work. Some hairdressers also have additional training in hair extensions, braiding, and wig-making.
In addition to providing services to clients, hairdressers may also sell haircare products such as shampoo, conditioner, and styling products.
Hairdressers typically build relationships with their clients and offer advice on maintaining healthy hair.
Street Magician
The national average for Street Magicians in the US is $44 per Hour.
A street magician is a performer who typically relies on the donations of passersby for compensation. These magicians often perform in highly visible public locations, such as busy sidewalks or popular parks. Because they frequently compete for attention with other street performers, they must be creative and skilled to stand out.
Many street magicians specialize in close-up magic, which relies heavily on sleight of hand and misdirection. This form of magic is particularly well-suited to impromptu performances, as it does not require any special equipment or setup.
Performer At Venues
The national average for Musicians or Singers in the US is $47.50 per Hour.
Musicians and singers often perform at nightclubs, bars, restaurants, and other live music venues.
Performing at these venues can be a great way to build a following and get your music heard by new audiences.
It is always important to remember that the performance's quality will directly impact the number of people who come to see it—as such, putting the best foot forward every time on stage is essential.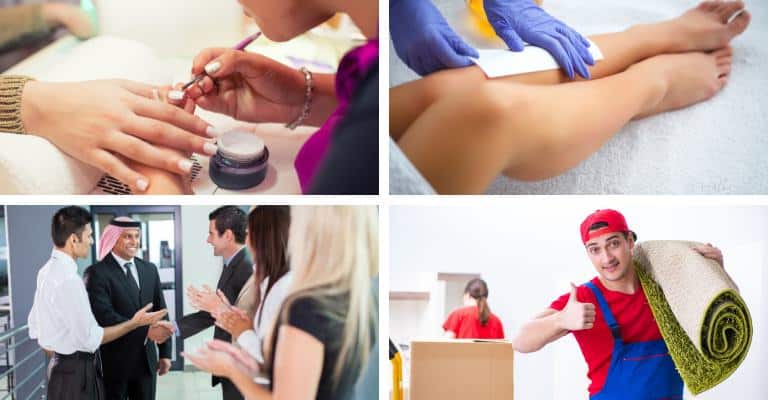 Nail Technicians
The national average for Nail Techs in the US is $18 per Hour.
Nail Techs are often paid and tipped in cash.
Nail technicians are highly trained professionals who provide various manicure and pedicure services.
In addition to shaping and polishing nails, they may apply nail art, acrylics, and gel nails. Most nail technicians work in salons or spas, while some work in freelance or mobile businesses.
Nail technicians must have excellent attention to detail and be able to work quickly and efficiently. They must also maintain a high level of cleanliness and sterilization to protect themselves and their clients.
Wax Tech
The US average for Wax Techs is $17 per Hour.
Wax Techs are often tipped in cash.
Wax technicians are cosmetologists who specialize in removing unwanted hair from the body using various waxing methods. They may be skilled in multiple techniques, such as hard waxing, cold waxing, and sugaring.
In addition to removing hair, a wax technician may provide other beauty services, such as facials and skin care treatments. For example, when meeting with a new client, a wax technician will discuss their desired results and assess their skin before selecting the best type of wax for the job.
Interpreter
The national average for Interpreters in the US is $23.50 per Hour.
Interpreters play a vital role in our increasingly connected world. They provide a bridge between people who speak different languages, allowing them to communicate with one another.
Interpreters may work in various settings, including businesses, schools, hospitals, and courts. In each case, their job is to facilitate communication between people who speak different languages.
Interpreters must have a strong command of both languages they are interpreting between. In addition, they must be able to understand both languages' nuances and convey them to the people they are interpreting for.
Additionally, interpreters must be able to think on their feet and stay calm under pressure. They may have to interpret complex concepts or technical language, and they must be able to do so accurately and effectively.
Junk Hauler
The national average for Junk Hauler / Garbage Remover in the US is $16 per Hour.
Junk haulers are professional waste management specialists who provide essential services to businesses and homeowners.
These experienced professionals are skilled in removing and disposing of all types of junk, from old furniture and appliances to construction debris.
In addition to hauling away unwanted junk, many junk haulers also offer recycling services, which can help to reduce the amount of waste going into landfills. As a result, junk haulers play a vital role in helping to keep our environment clean and safe.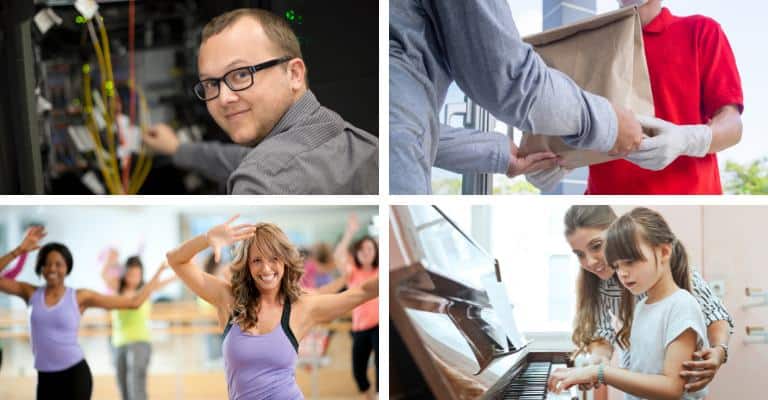 IT Tech
The national average for IT Techs in the US is $27 per Hour.
IT techs are the backbone of any company that relies heavily on technology. They are responsible for maintaining and troubleshooting computer systems, running networks smoothly, and providing technical support to users.
While an IT tech's specific duties vary depending on their employer's size and needs, they all share a common goal: to keep their company's technology infrastructure up and running.
Food Delivery (DoorDash / Uber Eats)
According to DoorDash, drivers earn $23 per Hour on average.
DoorDash drivers are responsible for completing food delivery orders from start to finish. It includes picking up the order from the restaurant, transporting it to the customer's location, and confirming delivery with the customer.
DoorDash drivers use their vehicles to complete deliveries, and they can set their schedules. To be successful, it is essential to be punctual, courteous, and have an excellent working knowledge of the local area.
Dance Instructor
The national average for Dance Instructors in the US is $25 per Hour.
A dance instructor is a professional who teaches people how to dance. They are trained in various dance styles and can adapt their teaching methods to suit the needs of their students.
Dance instructors typically work in studios or schools but may also offer private lessons.
In addition to teaching techniques, dance instructors also help their students develop confidence and express themselves through movement.
Music Instructor
The national average for Music Instructors in the US is $28 per Hour.
A music instructor is a person who provides musical instruction to students of all ages.
Music instructors typically have extensive training in music theory and performance and use this knowledge to help their students improve their skills.
Music instructors work in schools, universities, or private studios and may teach individual or group lessons.
In addition to teaching musical skills, music instructors also often help their students develop a music appreciation.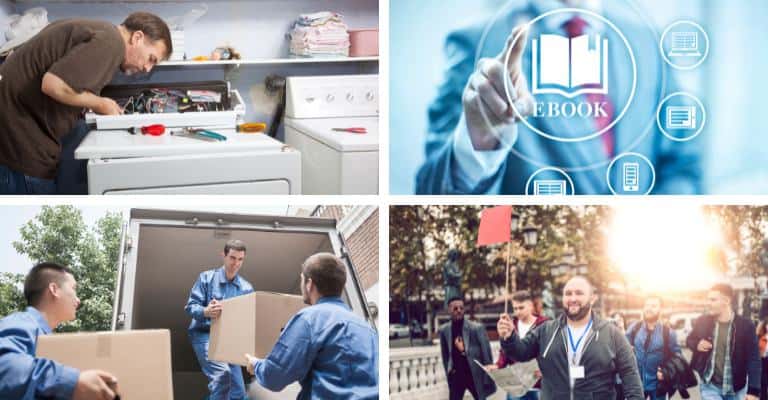 Appliance Repair Technician
The national average for Appliance Repair Technicians in the US is $32 per Hour.
An appliance repair technician is a skilled tradesperson who repairs and maintains household appliances.
Appliance repair technicians are trained to troubleshoot and repair many appliances, including refrigerators, ovens, dishwashers, washing machines, dryers, and more.
In many cases, appliance repair technicians can resolve problems with appliances without having to replace them, and often, they are contracted by major brands to provide onsite service.
Ebook Designer
An ebook designer is responsible for creating an ebook's overall look and feel and formatting the book's content for digital delivery. In addition, they work closely with authors and publishers to ensure that the final product meets all expectations.
In addition to their design skills, ebook designers must also understand how people read on electronic devices. This includes knowing how to use white space effectively and designing for different screen sizes and orientations.
With the increasing popularity of ebooks, there is a growing demand for ebook designers who can create beautiful and user-friendly designs.
Furniture Mover
The national average for Movers in the US is $15 per Hour.
A furniture mover is responsible for loading, transporting, and unloading the furniture and other large items. They may work for a moving company or be hired independently to move items between homes or businesses.
Furniture movers typically use dollies and other equipment to load and transport items, and they must avoid damaging the furnishings or the home.
Many furniture movers also provide packing services to help their clients prepare for a move.
In some cases, furniture movers may also be responsible for setting up the new home or office and placing the furniture in the desired location.
Tour Guide
The national average for Movers in the US is $23 per Hour.
A tour guide is responsible for escorting groups of tourists and providing them with information about the area being visited.
Tour guides often work for museums, historical sites, and other tourist attractions.
They may also work for tour companies that specialize in organizing group travel. In some cases, tour guides may also be responsible for leading walking tours or other guided experiences.
No matter what type of setting they are working in, tour guides must be knowledgeable about the area and its history. They must also be able to effectively communicate with their group, keeping them engaged and answering any questions they may have.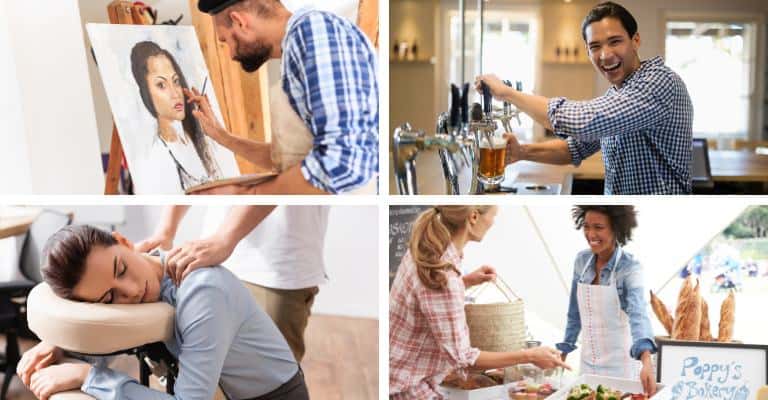 Portrait Artists
The national average for Portrait Artists in the US is $17 per Hour.
A portrait artist creates likenesses of people, typically from photographs but sometimes from life.
A typical commission might involve creating a head and shoulders image that captures the subject's likeness, personality, and spirit.
The artist may work in various mediums, including pencil, charcoal, pastel, oil paint, or digital art.
Many portrait artists also offer services for special occasions such as weddings, family reunions, or corporate functions. Whether working from a photo or life, a good portrait artist can create a lasting impression of the people they capture on canvas.
Bartender
The national average for Bartenders in the US is $16 per Hour.
A bartender is responsible for keeping the bar stocked and organized, preparing mixed drinks and cocktails, serving beer and wine, and interacting with customers.
Good bartenders are personable and efficient, creating a positive atmosphere that encourages customers to return.
Bartenders must be able to keep track of multiple orders at once, handle money quickly and accurately, and maintain a clean workspace.
Massage Therapist
The national average for Massage Therapists in the US is $36 per Hour.
A massage therapist is trained in applying therapeutic touch to the body. Massage therapists use various techniques to relieve pain, reduce stress, and promote relaxation.
Massage therapists must be licensed to practice, and most states require them to complete an accredited training program.
The most common type of massage is Swedish massage, which uses long, flowing strokes to reduce muscle tension and increase circulation.
Other popular types of massage include deep tissue massage, which targets deeper layers of muscle tissue; trigger point massage, which focuses on specific areas of pain; and sports massage, designed to improve performance and prevent injuries.
Baker
The national average for Bakers in the US is $15 per Hour.
A baker cooks food such as bread, cakes, and pastries. Bakers typically use an oven for baking their food.
Baking is cooking food using dry heat, typically in an oven, which gives the food a distinctive flavor and texture. Bakers usually start their day early, often before dawn, to begin baking.
Although some bakers receive formal training at culinary schools, many learn through on-the-job training or family recipes.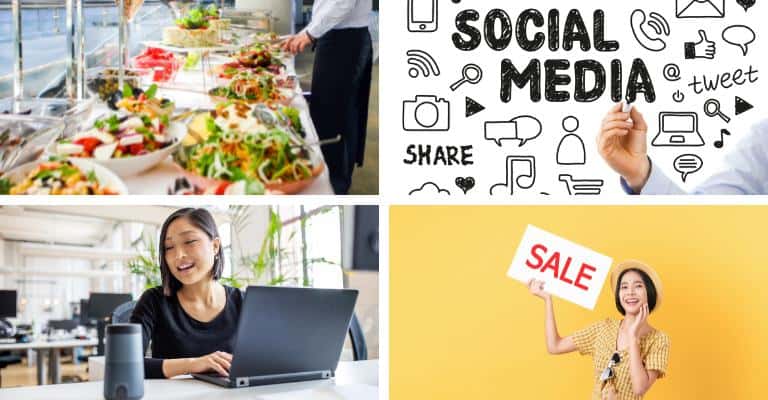 Caterer
The national average for Caterers in the US is $17.50 per Hour.
Caterers provide food and beverage services at events and gatherings. They typically work with clients to plan menus, choose ingredients, and coordinate cooking and serving schedules.
Caterers may also be responsible for setting up and breaking down serving stations, decorated tables, and other event-related equipment.
In some cases, caterers may also be responsible for providing entertainment or other event-related services.
Social Media Manager
The national average for Social Media Managers in the US is $24 per Hour.
Your social media manager is responsible for creating and curating content, managing post schedules, and analyzing engagement metrics across various social media platforms such as Facebook, Instagram, Youtube, TikTok, Pinterest, and more.
In addition to content creation, a social media manager also develops strategies for growing an audience and increasing followership.
This may include developing targeted marketing campaigns, identifying influencers to collaborate with, and running promotional contests or giveaways.
Virtual Assistant
The national average for experienced Virtual Assistants in the US is $23 per Hour.
A virtual assistant provides administrative, creative, or technical support to clients from a remote location.
They typically work independently, though they may occasionally collaborate with other freelancers or staff members.
Hiring a virtual assistant can help businesses save time and money while still getting the high-quality services they need.
Virtual assistants are often self-employed and use technology to perform their tasks, such as email, video conferencing, and file sharing.
Many virtual assistants are also skilled at managing social media accounts and creating content.
Sign Holders
The national average for sign holders in the US is $17 per Hour.
A sign holder is responsible for holding and displaying signs in various settings. This may include street corners, protests, rallies, and other public places.
Sign-holders typically work for organizations and local businesses that must communicate a message to the public in urgencies, such as grand openings, special promotions, and political campaigns.
Most local businesses pay under the table when hiring sign holders.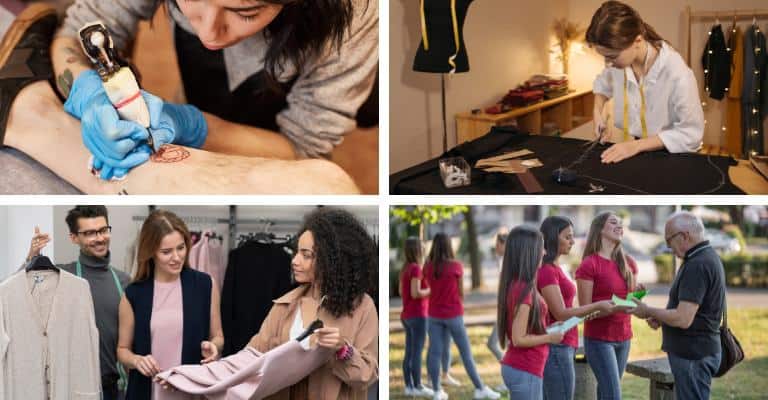 Tattoo Artist
The national average for Tattoo Artists in the US is $24 per Hour.
Tattoo artists use their creative talents to permanently mark people's skin with ink. They typically have a wide range of artistic styles and designs that they can use to create custom tattoos for their clients.
Tattoo artists typically charge by the Hour or by the tattoo design.
To become a tattoo artist, one must apply for a Tattoo Artist License and obtain approval from the Department Of Health.
Tailor
The national average for Tailors in the US is $17.50 per Hour.
A Tailor is a skilled craftsman who makes clothing and other garments. They use various techniques to cut and sew fabric, working with machines and hand tools.
In addition to making new clothing, they also alter existing garments to fit their customers.
Some tailors work in small shops or production facilities, while others are self-employed and work from home.
Tailors must be able to take precise measurements and have a good eye for detail to create a well-fitting garment. As a result, they often work closely with their customers to ensure that the final product meets their expectations.
Personal Shopper
The national average for Personal Shoppers in the US is $22 per Hour.
A personal shopper is a professional who helps their clients shop for clothing, shoes, and accessories.
Personal shoppers may work with individual clients or with groups, and they may work in physical stores or online.
Personal shoppers typically have a good eye for fashion and understand their client's tastes, budgets, and needs. As a result, they may offer advice on what to buy, how to style certain items, and where to find the best deals.
Flyer Distributor
The average pay for Flyer Distributors in the US is $13 per Hour.
A flyer distributor is responsible for delivering advertising materials to homes and businesses in a given area. This may involve walking door-to-door or leaving flyers on car windshields.
The average pay depends on the number of flyers distributed and the area covered.
Flyer distributors typically work on their schedule and can choose when and where to distribute flyers in a general area. Many businesses pay good money to have their flyers passed around.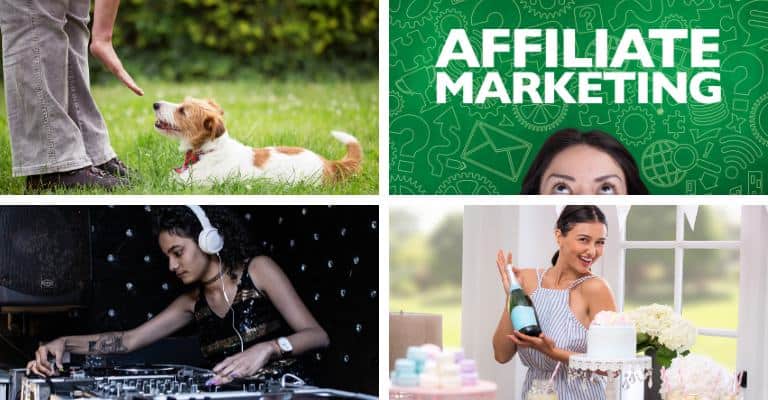 Pet Trainer
The average pay for Dog Trainer in the US is $14 per Hour.
A dog trainer is a person who is skilled in teaching dogs how to perform desired behaviors. Trainers use positive reinforcement to encourage dogs to display desired behaviors.
Dog trainers typically work with clients who want their dogs to learn basic obedience commands, such as 'sit' or 'stay.' However, trainers can also specialize in teaching more advanced behaviors, such as agility or protection work.
Affiliate Marketer
The average pay for an Affiliate Marketer in the US is $12 ~ $48 per Hour.
An affiliate marketer earns a commission by promoting products or services on behalf of another company. When a customer clicks on one of the affiliate's promotional links and makes a purchase, the affiliate earns a commission.
As an affiliate marketer, your job is to drive traffic to the merchant's website and help them generate sales.
You'll need to use various marketing techniques, including SEO, content marketing, and social media. In addition, you'll need to understand how the affiliate program works and how to get the most out of it.
The earning potential for affiliate marketers depends on many factors; it is a very lucrative business, with many people reporting making more money than another full-time job.
DJ
The average pay for a DJ in the US is $23 per Hour.
DJs are professional music artists who create and perform original compositions, usually with the help of electronic equipment. They typically specialize in a particular genre or style of music, such as electronica, hip-hop, or rock.
In addition to performing their music, DJs often act as MCs, hosting events and clubs and introducing other performers.
Some DJs also work as record producers, creating new tracks and remixes for other artists to release.
Party Planner
The average pay for a Party Planner in the US is $21 per Hour.
A party planner is a professional who helps to organize and execute special events.
Party planners typically have a background in event management and use their skills to help clients plan everything from birthday parties to corporate functions.
In many cases, party planners will also manage the budget, coordinate with vendors, and ensure that all details are handled.
Because each event is unique, party planners must be able to think on their feet and adapt to changes.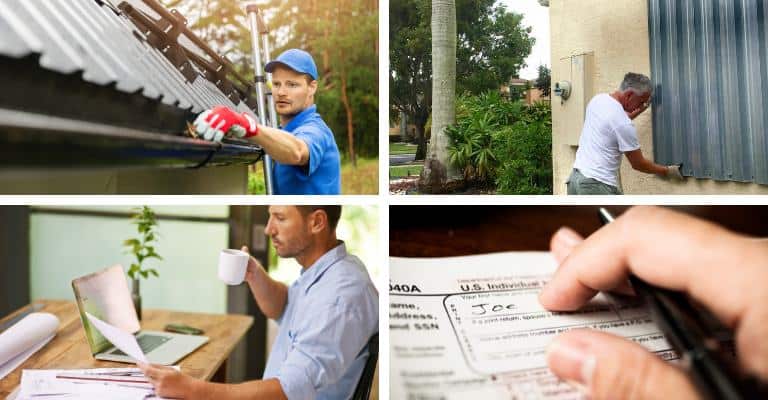 Gutter Cleaning
The average pay for a Gutter Cleaner in the US is $15 per Hour.
A gutter cleaner removes debris from gutters, downspouts, and storm drains. This helps to ensure that water can flow freely and does not cause damage to the structure of the home.
Gutter cleaners use various tools, including brushes, gloves, and ladders. They may also use pressure washers or blowers to remove stubborn debris.
In addition to cleaning gutters, a gutter cleaner may perform minor repairs, such as sealing leaks or replacing damaged parts.
Put/Remove Hurricane Shutters
The average cost to put up Hurricane Shutters is about $400 per house.
Putting up hurricane shutters is a crucial step in preparing for a storm. The most common type of hurricane shutters is Panel shutters, which are made of either aluminum or polycarbonate. They attach to the outside of the house with screws or bolts and can be left up all hurricane season.
Attaching panel shutters are labor intensive and often is a two-people job. You should hire a professional to install your shutters and use proper power tools to ensure correct installation.
Most homeowners pay cash for this service, and a team of three can do 5~8 installations a day before the hurricane reaches.
Proofreader
The average pay for a Proofreader in the US is $21 per Hour.
A proofreader is responsible for reviewing and editing written material to ensure accuracy and improve clarity.
This can involve anything from checking for grammar and spelling errors to ensuring that facts are accurate and style is consistent.
Proofreaders typically work with documents that are about to be published, such as books, magazines, and websites. They may also review legal documents or contracts to ensure they are error-free.
In some cases, proofreaders may also be responsible for making suggestions for improving the overall content of a document.
Tax Preparer
The average pay for a Tax Preparer in the US is $22 per Hour.
Tax preparers are responsible for completing and filing tax returns for individuals and businesses. Therefore, they must thoroughly understand the tax code to determine which deductions and credits apply to their clients.
In addition, tax preparers must keep up to date on changes to the tax code to ensure that their clients are compliant.
Tax preparers typically work with clients during the tax filing season but may also be called upon throughout the year to advise on tax-related matters.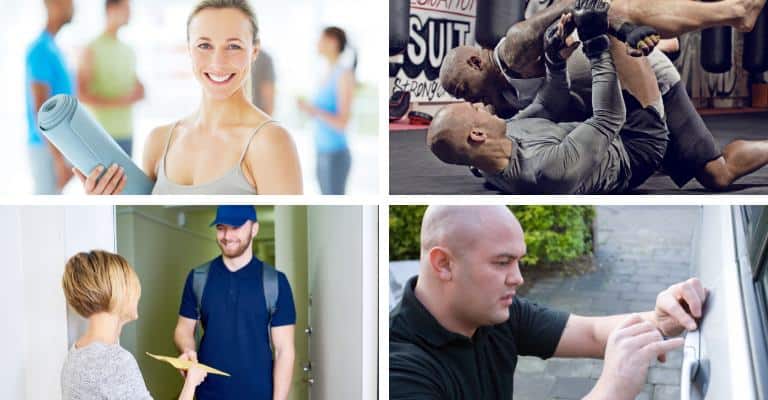 Yoga Instructor
The average pay for a Yoga Instructor in the US is $25 per Hour.
A yoga instructor is responsible for leading students through various yoga poses and breathing exercises. They may work with students of all levels, from beginners learning the basics to advanced practitioners looking to deepen their practice.
In addition to leading classes, yoga instructors may also be responsible for planning class sequences, providing modifications and props as needed, and offering guidance on alignment and form.
They may also teach private classes or lead workshops on specific topics, such as meditation or inversion therapy.
Yoga instructors must strongly understand yogi's physical and mental benefits to create safe and effective class plans.
Martial Arts Instructor
The average pay for an MMA Instructor in the US is $19 per Hour.
An MMA instructor typically teaches various classes focused on different aspects of the sport.
For example, some instructors may teach striking techniques such as punches and kicks, while others may focus on grappling and submissions.
In addition to teaching classes, MMA instructors often lead one-on-one training sessions with students. During these sessions, instructors help students to improve their techniques and strategies.
Couriers
The average pay for a Courier in the US is $19 per Hour.
A courier is a person who delivers messages, packages, and mail.
Businesses often use couriers to deliver important time-sensitive documents quickly and efficiently. Individuals may also use them to send packages to friends or family members.
Couriers typically work for courier companies, but some may be self-employed. No matter who you work for, you will need to be able to navigate city streets quickly and efficiently.
Mobile Locksmith
The average pay for a Locksmith in the US is $17 per Hour.
A mobile locksmith is a qualified tradesperson who attends to customers at their location.
Mobile locksmiths are trained in a wide range of lock and key services, including but not limited to: installing new locks, repairing damaged locks, picking locks, duplicating keys, unlocking car doors, replacing ignition locks, and much more.
They may also provide other services such as keyless entry system installation and repair, safe repair and opening, and surveillance camera installation.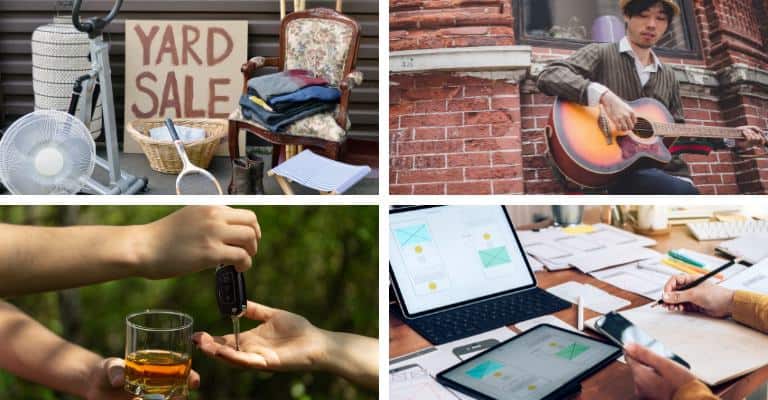 Yard / Garage Sales
According to the media, a successful planned Yard Sale can net $500 to $1000.
A yard sale is a great way to declutter your home and make some extra cash. To have a successful sale, you'll need to plan and do a bit of advertising. Typically, items for sale include clothes, furniture, toys, and household goods.
Yard sales are usually held on weekends, and people typically advertise them by putting up signs around the neighborhood.
Next, price your items accordingly and avoid overcharging. Finally, when the day of the sale arrives, set up your items on an attractive display and be prepared to haggle with customers.
You can have a successful yard sale and make some decent money with a little effort.
Street Performer
The average pay for a Street Performer in the US is $22 per Hour.
Street performers are a fixture in many big cities around the world. They provide entertainment for passersby and often add to the city's overall atmosphere.
Street performers come in various varieties, from musicians to magicians to acrobats. While some performers work solo, others work in groups.
Some street performers are buskers, meaning they collect money from onlookers in a hat or jar. Others are paid by the city or by local businesses in the area.
Designated Driver
A designated driver abstains from drinking alcohol at an event or outing while others consume alcoholic beverages.
The designated driver's sole purpose is to provide safe transportation for the group by ensuring everyone gets home safely.
Designated drivers are often reimbursed for free non-alcoholic drinks. Some establishments even have programs to encourage responsible drinking by offering discounts or quick cash to customers who agree to be designated drivers.
Flipping Websites
Flipping a website is, in a nutshell, buying an established website and then selling it for a profit.
The most common way to flip a website is to buy an existing site for a low price on a marketplace or contact the owner directly, add new monetization methods or more content that make it more valuable to prospective buyers, and then sell it for a higher price.
This can be a quick and profitable way to make extra cash online, but it does require some knowledge and experience in website development and marketing.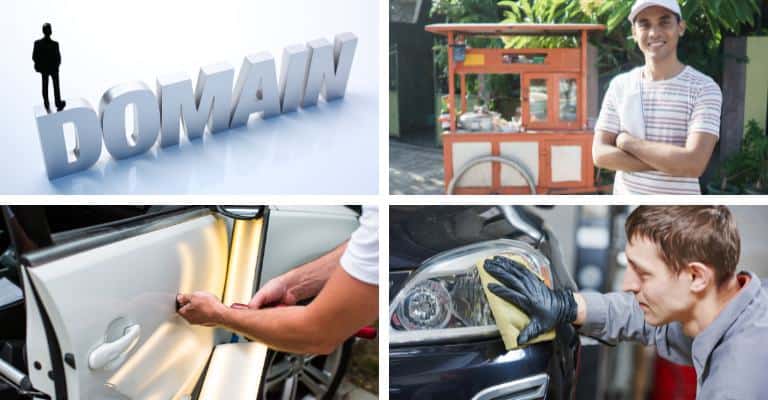 Domain Flipper
Domain flippers buy domains and then sell them for a higher price. They do this by registering domain names likely to increase in value, such as names with popular keywords or catchy phrases.
Domain flippers typically buy domains for a low price and then sell them for a much higher price, making a substantial profit.
Street Vendor Selling Bottled Water
The pay for a Street Vendor in the US is $75 per Hour on a busy day.
You may need insurance and a roadside vendor permit.
A street water vendor is an opportunity to earn extra cash by selling bottled water on the streets at traffic stops. This can be very lucrative, especially on a hot day.
Street vendors typically have a cooler and set up shop at busy intersections or near a park or market, and it is a seasonal job.
Dent Repair
The average pay for a Mobile Dent Repairer in the US is $22 per Hour.
Mobile dent repair is a process by which minor dents and dings are repaired from a vehicle without the need for traditional auto body repair.
The mobile dent repair technician will use special tools to pat/pull the dent from the inside, returning the panel to its original shape.
In most cases, the dent repair process lasts less than an hour, and the results are often indistinguishable from conventional auto body repairs.
Mobile dent repair is an ideal solution for busy individuals who want to maintain the pristine appearance of their vehicle without taking it to a traditional auto body shop, and they often earn good money working part-time.
Headlight Restoration Technician
The average pay for a Headlight Restoration Tech in the US is $20 per Hour.
Headlight restoration is a process of cleaning and polishing the headlight lens to remove the haze and yellowing that naturally occurs over time. The goal is to restore the headlight to its original clarity, which improves the car's look and visibility while driving at night.
The restoration process begins with sanding the headlight using various grits of sandpaper. Once the headlight is smooth, the tech will apply a clear coat to protect the headlight from future damage.
Headlight restoration is a relatively simple process that can be completed in less than an Hour, and most customers are willing to pay cash for the service.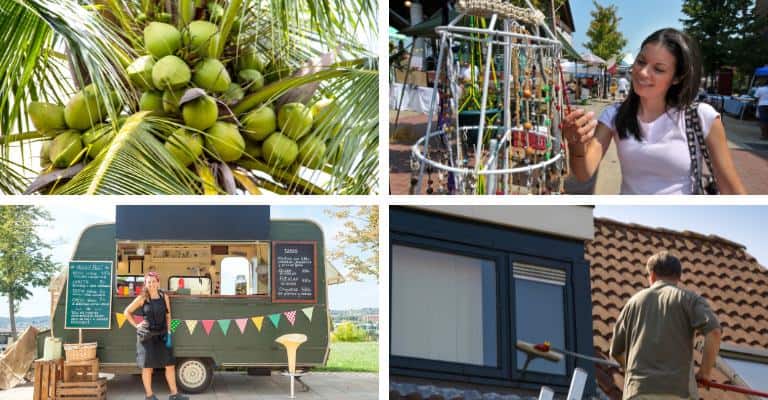 Coconut removal
The average cost to remove coconuts from a tree in Florida is $100 to $300 per tree.
Coconut removal services are vital for homeowners in south Florida who want to protect their property from storm damage. Coconuts can weigh up to several hundred pounds, and when they fall, they can cause severe damage to roofs, decks, and pools. They can also harm people and pets if not removed quickly.
Fortunately, several companies offer coconut removal services. These companies will come to your home and safely remove the coconuts from your property. They use special lifts or tree climbers to remove the coconuts without causing any damage to your property.
Coconut removal is indeed one of those odd jobs on this list, but it is a much-needed service if you live in South Florida.
Convention/Fair Vendor
The average pay for a Convention Vendor in the US is $29 per Hour.
A convention vendor is an exhibitor who sells or promotes products or services. As a vendor, your goal is to attract the attention of convention attendees and generate sales leads. To do this, you will need a well-designed booth that engagingly showcases your products or services.
Vendors usually earn good money while only working a few months out of the year. So if you are considering extra income, this may very well be an excellent option for you.
Food Trucks Vendor
The average pay for a Food Truck Vendor in the US is $25 per Hour.
A food truck vendor is a mobile food stall, typically serving lunch or dinner. Food truck vendors usually park their trucks in high-traffic areas, such as busy downtown streets or construction sites.
They typically sell customers a menu of pre-made food items, such as sandwiches, salads, and soups. In addition, some food truck vendors can customize their menus to cater to specific events or groups of people.
Window Washer
The average pay for a Window Washer in the US is $17 per Hour.
A window washer is a professional who cleans the exterior and interior of windows. They use various tools and cleaning solutions to remove dirt, dust, and grime from windows.
Window washers usually work on tall buildings, such as office towers or skyscrapers, but they may sometimes wash windows on homes or other businesses with storefronts.
In addition to cleaning windows, window washers may polish them to ensure a streak-free finish. They may also be responsible for cleaning other parts of the building, such as the sills or frames.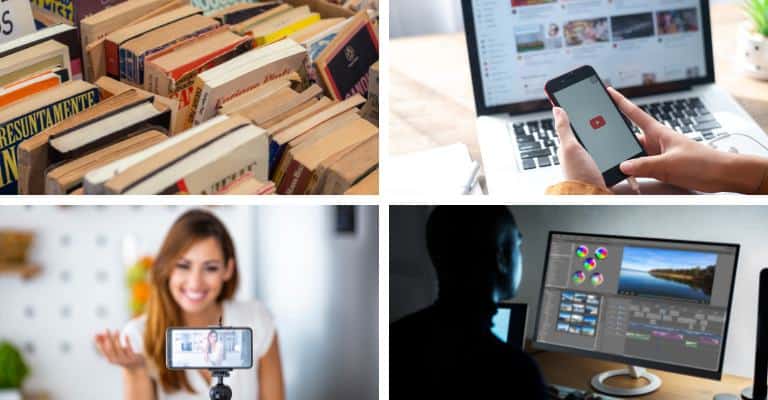 Used Book Arbitrage
The typical pay for a Book Arbitrage in the US is about $500 ~ $2000 per month.
A Used Book Arbitrager buys low-cost used books from one source (local bookstore) and sells them at a higher price from another source (Amazon.com).
The beauty of books is that they hold their value well, so there is always a market for reselling them.
To be successful, arbitragers must be knowledgeable about the prices of different types of books and have access to sources of cheap books.
Become A Youtuber
The average pay for a Youtuber in the US is $30 per Hour.
A YouTuber creates and posts videos on the video-sharing website YouTube.
Many YouTubers are amateur filmmakers who produce and upload videos about their daily lives, while others make professional content on various exciting subjects such as science, politics, or just plain entertainment.
YouTubers often build up a large following of loyal fans who subscribe to their channel and watch their videos regularly.
Social Media Influencer
The average pay for a Social Media Influencer in the US is $19 per Hour.
A social media influencer is an individual who has built up a large following on social media sites such as Instagram, YouTube, Snapchat, or Twitter and often uses their platforms to promote or endorse products, brands, or services.
In many cases, social media influencers have a more personal relationship with their followers than traditional celebrities, so their endorsements carry more weight. As a result, they can lead to a significant increase in sales or brand awareness.
Video Editor
The average pay for a Social Media Influencer in the US is $20 per Hour.
A video editor is a creative professional responsible for putting together all the different elements of a video production.
This includes selecting and arranging footage, adding special effects and graphics, and creating an entertaining and informative finished product.
A video editor must have a strong understanding of both the technical aspects of video production as well as the art of storytelling. In addition, they must be able to work well under pressure and meet deadlines.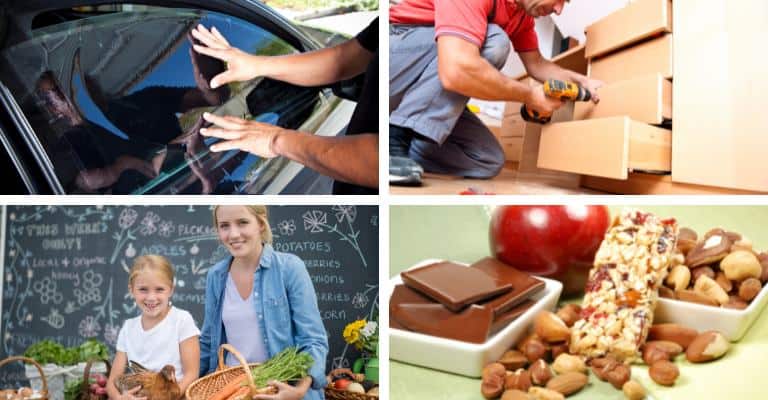 Window Tinter
The average pay for a Window Tinter in the US is $15 per Hour.
A window tinter is a professional who applies thin film to the windows of a vehicle. This film helps to protect the interior of the car from the sun's harmful rays, and it can also reduce glare and make driving more comfortable.
Window tinting is a popular aftermarket modification, and many people choose to have it done when they purchase a new car. Various types of window tint are available, each with advantages and disadvantages.
Furniture Assembling Tech
The average pay for a Furniture Assembly in the US is $13 per Hour.
Furniture assembly involves putting together furniture that has been delivered in boxes. It can be a one-time job or an ongoing gig.
Typically, the person hiring for the furniture assembly will provide the necessary tools and instructions. The pay can vary depending on the complexity of the job and the number of pieces being assembled. However, most gigs pay by the Hour.
Grow and Sell Produce
Growing and selling your produce can be a rewarding experience. Not only will you be satisfied knowing that your produce is fresh and healthy, but you'll also be able to control the quality and price of your product.
There are a few things to keep in mind if you're thinking of getting into the business of growing and selling produce. First, you'll need to ensure a reliable water source. Second, you'll need a lot of space to grow your produce. And finally, you'll need to be able to market and sell your produce at the right price to make a profit.
Business Snack Vending Box
A snack vending box is an honor-based arrangement between the vendor and business owners for snacks and confectionery.
The vending box is placed in a high-traffic area, such as a front entry, waiting room, or lunch room, and customers or employees can purchase snacks by leaving coins or bills in the collection box.
A typical snack vending box contains a variety of chips, chocolate bars, and other snacks.
The vendor typically pays a commission to the owner of the location where the machine is placed and is responsible for restocking items where needed.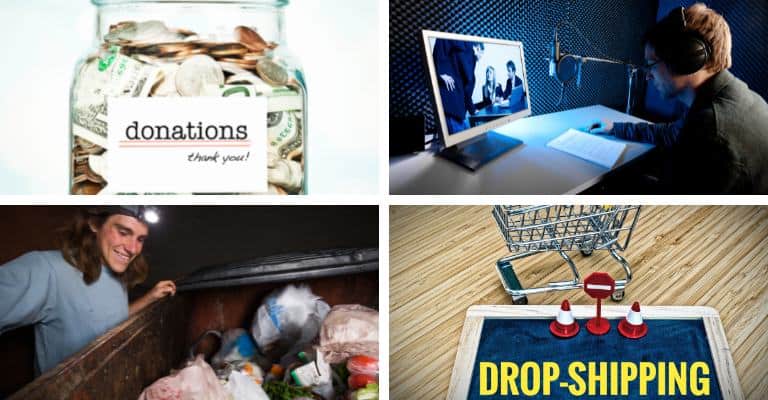 Door To Door Donation Box
Donation boxes are common in many businesses, such as retail stores, restaurants, and offices. These boxes are usually placed near the entrance or exit, providing an easy way for customers and employees to donate to a cause.
The donation box business model is relatively simple: businesses agree to host the boxes on their premises, and the organizations that operate the boxes collect the donations and use them to support their programs. Sometimes, businesses may also offer discounts or incentives to customers who donate.
While the donation box business model might not appear as a for-profit business, remember that operators are entitled to be paid for their work setting up boxes and collecting donations.
Voiceover Recording
The average pay for a Voice Actor in the US is $35 per Hour.
Voice actors are professional voice talents that record lines or dialogue for projects such as animated films, video games, or commercials.
Voice acting is considered a specialized form of acting, and as such, voice actors are often required to audition for roles just like any other actor would. However, because of the unique nature of their work, voice actors may also be cast based on their voice alone.
Dumpster Diving
Though it may not sound like the most glamorous job, dumpster diving can be a great way to make some extra money.
First, find an area where many businesses are likely to generate more waste than residential areas.
Then, look for dumpsters that are accessible and not too full. Once you've found a promising dumpster, carefully sort through the contents to look for anything valuable.
Items that can often be sold include clothes, electronics, and furniture.
Finally, wash or clean any items you plan to sell, and then list them online or take them to a consignment shop.
You can earn quick cash by dumpster diving with a little effort.
Ecommerce Dropshipping
The average pay for a Dropshipper in the US is $20.50 per Hour.
Dropshipping is a business model in which e-commerce entrepreneurs sell products without carrying any inventory.
When a store owner receives an order from a customer, they contact the supplier, who will ship the products directly to the customer's doorstep.
Dropshipping is a popular business model because it's relatively easy to start and doesn't require a significant up-front investment.
All you need to start a dropshipping business is an internet connection and a website.
However, there are also some downsides to dropshipping, such as the fact that you have less control over your product quality and fulfillment process.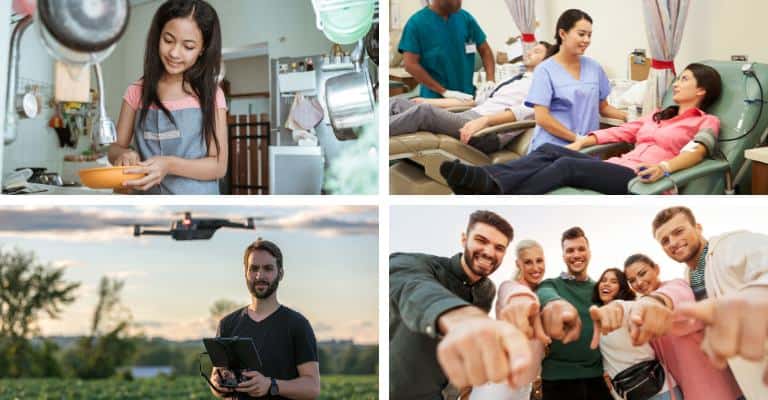 Odd Jobs around the house
One of the most popular apps for this kind of work is TaskRabbit.
TaskRabbit is an online and mobile platform that connects task posters with people, aka TaskRabbits, willing to do odd jobs and errands. For example, TaskRabbits performs grocery shopping, furniture assembly, moving help, event assistance, and general handyman work.
TaskRabbit is a flexible way to earn extra income by doing tasks you are already familiar with and enjoy. It's a great way to earn money during your free time.
Donate Plasma
The average pay for donating plasma in the US is $20 ~ $50 per donation.
Anyone healthy and willing to donate blood can give blood. The process takes about an hour, and all donors are compensated for their time.
Donating blood is a simple and easy way to help others and can also be a simple way to earn money.
Drone Photographer
The average pay for drone photographer in the US is $22 per Hour.
Digital aerial photography with about 2 minutes video footage costs on an average of $250, and it could be completed in less than 30 min with editing time included for a skilled operator.
Drone photography provides an innovative way to capture unique perspectives that would otherwise be difficult to get with traditional camera equipment. In recent years, more and more people have been getting into photography using drones, especially in aerial photography.
With excellent maneuverability and the ability to be used at various angles and heights, drones allow photographers to explore a three-dimensional perspective that cannot be obtained otherwise. With the right skill set and equipment, drone photographers can make money with their craft by offering high-quality professional photos for things like real estate marketing, landscape, or just an aerial view of someone's most precious investment, their home.
Where and How Do I Get a Job Cash Jobs?
Websites like Indeed and Craigslist often have sections that list these types of positions.
Facebook Marketplace, Fiverr, and Upwork are good places to look for short-term jobs or gigs that pay cash.
Apps such as TaskRabbit, ThumbStack, DoorDash, and Uber, also allow people to find jobs in a specific industry.
Depending on your creativity and skill set, you will find many offers to meet your needs.
In Conclusion
We live in a digital age, where more job listings appear online. This is excellent news for those looking to make money from home, as there are many opportunities. If you are a young adult just starting, please read our article on the nine best financial advice for young adults.
In our list of 99 Best Under The Table Jobs That Pay Cash (in 2023), we hope it will help you find the perfect opportunity or inspiration.
Which of these jobs appeals to you most? Let us know in the comments!