Best Pet Affiliate Programs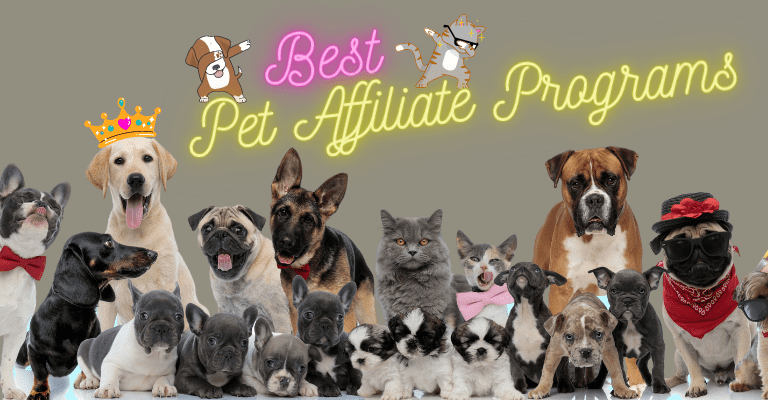 Here are the Best Pet Affiliate Programs:
As pet lovers, we always look for new and innovative ways to spoil our beloved fur babies. But what if we told you there's a way to pamper your pets with the latest products and make some extra cash while doing so? That's right! Today, we'll explore the best pet affiliate programs to help you turn your passion into profit.
You might have heard of affiliate marketing before, but how does it work exactly in the world of pets? Well, it's pretty simple – by joining these top-notch programs and promoting their cutting-edge products or services through your blog, social media channels, or website, you'd earn commissions every time someone purchases using your unique referral link.
And trust us when we say this: The possibilities are endless! So why wait? Let's dive deep into these fantastic opportunities and start making money while keeping our furry friends happy and content.
🐾🚀💰🐶🐱💻🛍️🤝🌐📈😍Translation: Paws up for the booming pet affiliate market! 🐾 Connect with furry friends 🐶🐱, sell amazing pet products online 💻🛍️, collaborate with popular brands 🤝, and watch your earnings grow 📈! Join the pet lover's…
Click To Tweet
Overview Of Pet Affiliates
The pet industry constantly evolves, with new and exciting trends emerging daily. As an affiliate marketer in the pet niche, you have a unique opportunity to stay ahead of these innovations by providing your audience with informative pet product reviews, insightful pet health advice, and valuable pet care tips.
Pet lovers always look for ways to improve their furry friends' lives – from discovering advanced nutrition solutions to cutting-edge products that enhance their pets' well-being.
By joining top-notch pet affiliate programs, you can provide your readers with reliable pet nutrition advice and recommendations and earn a commission while doing so!
Interesting Fact:
The American Pet Products Association (APPA) reports that approximately 70% of American households own at least one pet, with dogs and cats being the most popular choices.
Types Of Pet Affiliates
Animal Supply affiliates are great for pet owners who want their paws on the best supplies.
Veterinary clinics look to pet affiliates to help them reach more patients and grow their business.
Pet food affiliates let pet owners find the perfect food for their furry friends. Pet services affiliates help pet owners find a reliable groomer or sitter.
Pet retailers can use pet affiliates to get their products to more people.
Pet insurance affiliates ensure pet owners don't have to worry about unexpected vet bills.
Pet toy manufacturers can benefit from pet affiliates to get their toys into the hands of more pet owners.
Pet grooming affiliates help pet owners keep their animals looking and feeling their best.
Pet trackers let pet owners know where their pet is at all times, and pet affiliates can help them find the right one.
Pet photography affiliates help pet owners capture their pet's life memories.
Pet clothing affiliates let pet owners dress their pets in the latest trends.
Pet travel affiliates make sure pets get to their destination safely and comfortably.
Pet technology affiliates offer pet owners the latest in tech for their pets.
Pet boarding affiliates help pet owners find the perfect place to stay when they're away.
Pet sitting affiliates provide pet owners with the best sitters to care for their pets while they're gone.
Animal Supply
Imagine the endless possibilities for your furry friends when you join an animal supply affiliate program!
As a pet affiliate, you'll get to promote top-notch pet food brands that suit every unique palate and dietary need while showcasing the latest in innovative pet accessories.
Your audience's pets will never be bored again with access to a wide range of entertaining and mentally stimulating pet toys that cater to their instincts.
Plus, by partnering with these programs, you're satisfying your audience's desire for innovation and helping them provide the best care possible for their beloved companions.
So why wait? Dive into the world of animal supply affiliates and make those tails wag like never before!
Veterinary Clinics
But wait, there's more!
As a pet affiliate, you'll also be able to promote essential services such as veterinary clinics. These state-of-the-art facilities are equipped with the latest in veterinary technology and staffed by experienced professionals who always put your audience's pets first.
You can help spread the word about comprehensive pet health insurance plans that provide coverage for routine check-ups, emergency care, and even specialized treatments – giving pet owners peace of mind knowing their furry friends are well cared for.
And let's not forget those busy folks who'd love assistance getting their fur babies' meals on time; promoting convenient and nutritious pet food delivery services will surely be a hit among them!
So please take advantage of this fantastic opportunity to make an impact in the lives of countless pets and their humans while earning lucrative commissions along the way.
Pet Food
But that's not all! As a pet affiliate, you can also dive into pet nutrition and promote high-quality pet food that caters to various dietary needs.
By partnering with innovative brands, your audience can access nutritious meals for furry companions without sacrificing convenience or quality.
This goes hand in hand with veterinary care and pet insurance – ensuring pets receive well-rounded care from every aspect.
So why wait? Jump on board this exciting opportunity to make an impact in the lives of countless pets and their humans while earning attractive commissions along the way!
Benefits Of Pet Affiliates
One of the main benefits of pet affiliate programs is that they are constantly evolving to meet pet owners' needs, keeping up with the latest pet trends to provide innovative solutions.
By partnering with these cutting-edge companies, affiliates can offer their audience a diverse range of products and services related to pet safety, health, nutrition, and overall well-being.
As an affiliate marketer in this niche, you can share your passion for pets while earning income from promoting top-quality pet products.
Moreover, by staying informed on new advancements within the industry, you'll ensure that you're always providing valuable information and resources for both existing and potential customers who rely on your expertise.
Interesting Fact:
The pet industry in the USA is a multi-billion-dollar market, with pet owners spending over $100 billion annually on pet care products and services as of 2021.
Popular Pet Affiliate Programs
As the saying goes, 'birds of a feather flock together,' This couldn't be truer for pet owners looking for top-notch affiliate programs.
These popular pet affiliate programs offer comprehensive company research, detailed product reviews, and an array of affiliate tools that make promoting their products a breeze.
Pet owners are increasingly turning to social media platforms to share their experiences with various pet products, making these platforms ideal places to promote your chosen program's offerings.
You'll undoubtedly see success as part of these exceptional pet affiliate networks by leveraging such opportunities with innovative marketing strategies.
| Rank | Affiliate | Description | Difficulty | Earning Potential |
| --- | --- | --- | --- | --- |
| 1 | Chewy | Online pet supply retailer offering pet products | Easy | $1,000-$4,000 |
| 2 | Amazon Associates | Large selection of pet products through Amazon store | Easy | $500-$3,500 |
| 3 | Petco Affiliate | Partner with Petco to promote their wide range of pet supplies and services | Medium | $800-$3,000 |
| 4 | PetSmart | Affiliate program for PetSmart's pet supplies and services | Medium | $700-$2,500 |
| 5 | Rover | Pet sitting and dog walking services marketplace | Medium | $600-$2,000 |
| 6 | Only Natural Pet | Natural pet food, supplements, and supplies retailer | Easy | $500-$1,500 |
| 7 | Healthy Paws | Pet insurance referral program | Medium | $400-$1,200 |
| 8 | BarkBox | Monthly subscription box for dog toys and treats | Easy | $300-$1,000 |
| 9 | PetWellbeing | Holistic pet health supplements and products | Medium | $250-$900 |
| 10 | Embark Veterinary | Dog DNA testing and personalized health reports | Medium | $200-$800 |
Please note that earning potentials listed are approximate values and may vary based on your marketing efforts, audience size, and niche.
Commission Structure
Percentage Commissions are great for those who want to earn more as their sales increase and for those who want to make a long-term commitment to the program. Flat-Rate Commissions are ideal for those who want to make a quick buck, as they provide a consistent rate for each sale regardless of its worth. Finally, performance Bonuses are fantastic for those who want to be rewarded for consistently excellent results; they can help affiliates hit their targets and reach their full potential.
Percentage Commissions
Who doesn't love the thrill of earning more as you succeed?
In pet affiliate marketing, percentage commissions are a game changer for ambitious affiliates. When programs offer commission tiers or incentive systems, your earnings grow alongside your dedication and creativity in promoting their products.
This encourages innovative and creative campaigns that benefit avid pet lovers and reward you handsomely for your hard work. With such enticing rewards at stake, there's no better time to indulge your passion for pets while enjoying an ever-growing income stream from these incredible pet affiliate programs!
Flat-Rate Commissions
But don't worry; we haven't forgotten about those who prefer a more experience-based earning approach.
Flat-rate commissions offer another fantastic way for pet affiliates to cash in on their expertise and dedication.
Promoting highly sought-after, pet-specific products within your niche allows you to enjoy the stability of consistent earnings while still flexing your creative muscles.
This competitive advantage allows you to rely on innovation and hard work as critical components to build a thriving affiliate strategy tailored just for you.
So whether a percentage or flat-rate commission piques your interest, there's plenty of income potential waiting for passionate pet lovers like yourself!
Performance Bonuses
But wait, there's more!
Performance bonuses are another exciting aspect of the commission structure that pet affiliate marketers can use. Again, this is where incentive models shine, offering additional rewards for those who go above and beyond in their promotion efforts.
By establishing strong brand loyalty and driving increased revenue sharing with your chosen partner companies, you'll have the chance to earn even more on top of your regular commissions.
So don't be afraid to think outside the box and push boundaries – innovation could be the key to unlocking these lucrative bonus opportunities!
Advertising Guidelines
Now that we've covered the lucrative commission structure of our pet affiliate programs let's dive into the advertising guidelines you'll need to follow for success.
Abiding by these rules ensures a seamless partnership and enhances customer engagement and satisfaction.
Our branding rules are designed to maintain consistency across all platforms while offering flexibility to help you attract more customers.
Payment methods should be transparent and accessible for your audience, reducing compliance issues or account management concerns.
By following these guidelines and incorporating innovation in your strategies, you're well on your way to becoming a top-performing pet affiliate marketer!
Requirements For Joining
Meeting specific qualification criteria set by various programs is essential to become a successful affiliate in the pet industry.
Staying up-to-date with pet owner trends and adapting your influencer marketing approach can significantly impact your chances of acceptance into these programs.
By employing effective social media strategies and understanding different payment models offered by pet affiliate programs, you'll be better equipped to join this booming market.
Keep pushing the boundaries of innovation; soon enough, you'll be reaping the rewards as an influential figure in the pet niche!
Tracking And Analytics
Let's start by looking at our tracking performance. We need to measure how effective our pet affiliate program is to ensure it's reaching its goals. We also need to analyze our data to understand better how customers engage with our program.
Tracking Performance
As you're diving headfirst into the world of pet affiliate programs, it's crucial to keep an eye on your performance by tracking and analyzing data.
This way, you'll be able to pinpoint which targeting markets are most responsive to your campaigns, allowing you to refine your approach and boost conversions.
Don't be afraid to experiment with various testing strategies – innovation is at the heart of successful marketing!
Consistent monitoring will also help improve brand recognition as customers become more familiar with your promotions.
So get creative, and watch those numbers soar; who wouldn't want their pet business reaching new heights?
Analyzing Data
As a pet affiliate program enthusiast, you know that analyzing data is the key to unlocking your marketing potential.
By utilizing data visualization techniques, you'll be able to easily spot patterns and trends in your tracking insights – making it simpler than ever to hone your campaigns for maximum impact.
With these powerful tools at your fingertips, you can create predictive models to help guide decision-making as you explore new promotional opportunities.
And who knows what exciting innovations lie just around the corner?
So please don't hold back; dive into those analytics and let them lead the way toward a brighter future for you and your furry friends!
Making The Most Of Your Affiliate Program
As the dust settles on tracking and analytics, it's time to dive headfirst into making the most of your affiliate program.
Like a playful puppy discovering new toys, let's explore how you can maximize your earnings with pet-friendly products.
High-margin items are like catnip for profit-hungry affiliates; tempting them with brand recognition and social media integration will satisfy them.
By implementing cross-promotion strategies, you'll unlock a treasure trove of opportunities that will make even the pickiest feline envious.
Future Of Pet Affiliate Programs
As we look into the future of pet affiliate programs, we must consider how pet ownership trends and industry growth will shape this landscape. In addition, pet technology and product development advances will bring new opportunities for affiliates who stay informed and adapt their strategies accordingly.
One exciting aspect of the future is the rise of pet influencers on social media platforms. These furry friends have amassed huge followings, driving demand for innovative pet products that cater to modern owners' needs. By partnering with these influencers, affiliates can tap into a massive audience eager for the latest innovations in pet care.
Pet Ownership Trends:
The growing interest in sustainable and eco-friendly products – Affiliates should focus on promoting environmentally conscious brands.
Increased demand for smart home integration (pet feeders, trackers) – Opportunity to promote cutting-edge tech gadgets for pets.
Rise of online veterinary services and telemedicine – Promote virtual vet consultations as an add-on or upsell feature.
Customization/personalization trend in pet products – Highlight unique personalized offerings from partner companies.
Key Takeaway:
The pet insurance market has grown significantly in the USA, with more pet owners opting for insurance policies to cover their pets' medical expenses, particularly for accidents and illnesses.
Consumers seeking healthier pet food options – Emphasize organic, natural ingredients when promoting affiliated products.
By staying ahead of these trends and capitalizing on advancements within the fast-growing pet industry, savvy affiliates can position themselves at the forefront of this lucrative market. So keep your eyes peeled for breakthroughs in pet product development, and be ready to pounce on those emerging opportunities!
Conclusion
In conclusion, pet affiliate programs present a fantastic opportunity for animal lovers and enthusiasts to share their passion with others while generating income. With various types of affiliates available in the market, from pet products to services, there is something for everyone's interests and expertise.
As we've seen throughout this article, these programs offer numerous benefits, such as competitive commission structures, tracking tools, and analytics that help ensure the company's and its partners' success.
Moreover, choosing the right program that aligns well with your audience and personal brand; this will enable you to make the most out of your partnership.
The future of pet affiliate marketing is bright as more people turn to online platforms for information on pets, product recommendations, or simply seeking inspiration from fellow animal lovers. As long as our love for animals continues to grow, so will demand quality content and reliable sources of information—making now an excellent time to dive into the world of pet affiliate programs!
So, unleash your inner marketer today by joining one of these exciting ventures.