Residual Income Definition, And How To Get It?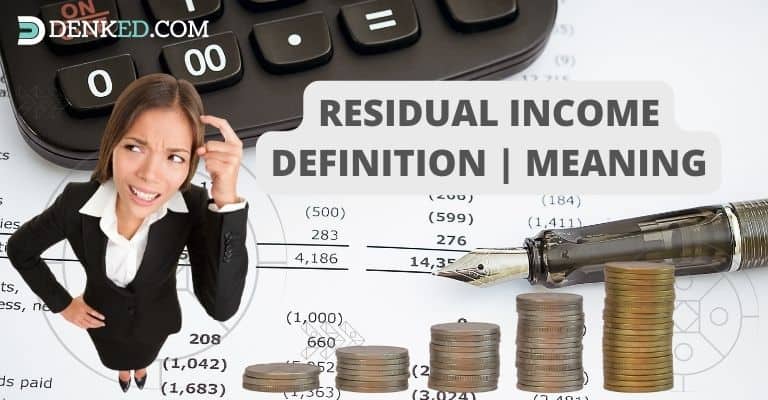 Let's begin with a quick look at the concept of Residual income.
Residual income in the context of passive income:
It is defined as generating revenue after you've completed the work. It can come in many forms, such as rental income from real estate investment properties, royalties from creative works such as music and books, or commissions from sales of products and services.
In personal finance:
Residual income is the money left over after paying all expenses. For example, suppose your monthly income is $1000 after deducting $400 for rent, $200 for food, $200 for utilities, and other miscellaneous monthly expenses. In that case, you are left with $200 of residual income or discretionary income.
In corporate finance:
Residual income is the excess income after paying all relevant costs and expenses, and it is also known as net income. A corporation's financial analysts use a standard Key Performing Indicator (KPI).
Disclosure: Some of the links in this article may contain affiliate links, which may provide compensation to me at no cost to you if you decide to purchase. These are products and services I've personally used and stand behind. This site is not intended to provide financial advice and is for entertainment only. You can read our affiliate disclosure in our privacy policy.
Residual income definition, meaning, and examples:
This article will focus on the residual income concept related to passive income or revenues generated after the initial work is completed.
This type of residual income has become increasingly popular among people from all walks of life because it means recurring money beyond what you earn from a 9-5 job. This article will shed some light on how to start building your sustainable cash flow stream.
Get ready for a breakdown as we explore this compelling concept — so read on and get ready to master the art (and science) of residual income!
What are the three types of income?
Think of income as money you receive but from a variety of sources.
There are three main types of income to consider: earned or active, passive, and portfolio income.
Earned income
Earned or active income is the kind that's most familiar to people; this is the type of money you make from employment or business activity.
Passive income
You can think of passive income as a kind of profit you get without trading your time for it – rent or royalties earned from property, businesses, and investments are all examples of passive income.
Portfolio income
Finally, portfolio income involves investments in stock dividends, bonds, and other securities that generate a return over time.
Understanding the different types of safeguarding, budgeting, and investing your hard-earned money is essential.
These three types of income could all be residual income; as long as you are net positive, you are generating residual income, actively or passively.
Residual income vs. passive income
Passive and residual income have many similarities but differ in some important ways.
Regarding passive income, you typically work on something once but get paid for it repeatedly. Think of it as royalty fees from music or book sales – you only work once to create the product but get paid multiple times for that one creation.
Another quick passive income stream example is interest income from treasury bills or stock dividends. You invest once and get paid repeatedly over and over again.
The term "residual income" is interchangeable with passive income when used in the same context; however, the subtle difference is that residual income usually refers to net income after deducting all obligations, whereas passive income usually does not have obligations consideration.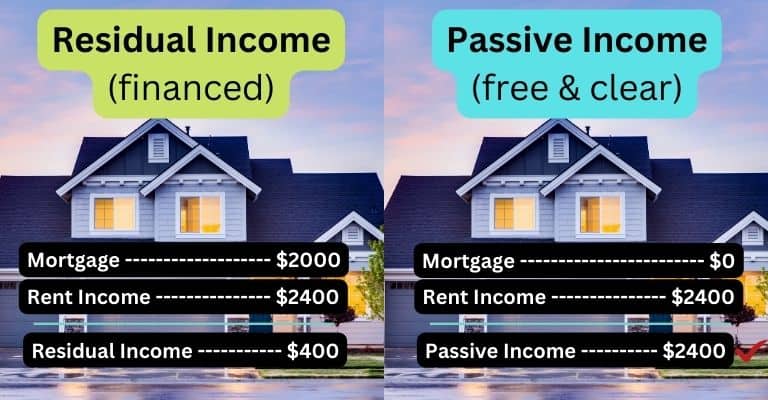 Residual Income:
So if you were to rent out a house that you are paying a mortgage on, let's say you are paying $2000 a month and collecting $2400 in rent. Your residual monthly income for this property would be $400, but of course, it is the simplified version as no other expenses are calculated, but that's the broad definition.
Passive Income:
On the other hand, under the same example, passive income would be owning the house free and clear and renting it out for a $2400 monthly payment. It is passive income as the house is paid off, so any revenue generated from the rental property would be considered inactive and require little or no effort from you.
Residual Income Formula and How It Works
The residual income formula is a calculation designed to measure the profitability of an investment after accounting for all costs. It looks at the returns from an investment compared to the cost of purchasing such an asset.
The formula for this calculation is:
Residual Income = Operating Income – (Operating Asset x Target Rate Of Return)
This formula takes the total operating income from the business minus the target return percentage of the total operating asset for the given period.
For example, suppose you generated 100K in operating income and have 200K in operating assets, with a target return of 25%. In that case, you are looking at a residual income (100K – (200K x 0.25)) of $50K.
Another formula closely related to the Residual Income is the Return On Investment or ROI.
ROI % = Operating Income divided by Operating Assets
Using the same example above, the ROI % (100K/200K) = 0.50 or 50%.
Residual income ideas
Residual income can be used to create a passive income stream. Think of it as an investment you make once and continue to reap the rewards over time.
The best ideas come from leveraging existing resources you are already familiar with. For example, you can earn residual income by renting a spare bedroom, creating digital content for educational or entertaining purposes, selling an online subscription or membership plan, or making handmade items like jewelry.
You can also generate passive income more traditionally, such as by investing in real estate, treasury bonds, or mutual funds.
Here are some examples to get you started.
Develop mobile apps
If you want steady extra income, why not consider developing mobile apps?
Think about it – you can create an app using any number of codeless platforms to convert existing ideas into mobile-friendly experiences. The best part is you don't even have to mess with writing code – so if that's not your thing, then you're covered.
All you need to do is set up your app's parameters and design, choose from its library of functions and modules for additional features, preview it on multiple devices, and then upload the finished version to Apple App Store or Google Play Store!
There's no limit to what you can create with codeless platforms, so if you have the entrepreneurial spirit, why not try this approach? It just might be exactly what you need to develop a new residual income source.
Work with affiliate marketing.
Affiliate marketing is great for making extra cash and establishing a residual income stream.
It's performance-based marketing where businesses and individuals partner up and promote products or services for commissions. You get rewarded for referring customers or leads to another company.
It's a fantastic method because you don't need any special skills any technical know-how, and you can even do it from the comfort of your couch at home!
Affiliate marketing may be a perfect choice whether you want to become an influencer or make a little bit on the side.
Put your photography online for people to use
Selling photography online is a great way to create a passive income stream. Turning something you love into a viable business can be incredibly fulfilling.
With the help of many stock photo services such as Storyblocks, Adobe, and Shutterstock, you can share your photos with the world and make money.
Not only will it allow you to make money when customers purchase digital downloads, but you'll also be able to generate longer-term profits by participating in revenue sharing on memberships.
With all these potential opportunities, why not start selling photography online today? You might end up finding an entirely new career!
Write a book
Writing a book can be an excellent way to develop residual income. It's something that anyone with the will, patience, and dedication can do. You don't need to be an English professor or have a boatload of writing experience—just a good story idea and a strong work ethic.
Your book could generate passive income year after year, especially if you decide to self-publish it online or through print-on-demand services such as Amazon Kindle. Not only can you monetize your creativity, but you also get to share the fruits of your labor with people who could benefit from its message.
Writing a book is exciting and intimidating; regardless of which camp you fall in, it's always worth trying if you've got ideas and enthusiasm ready to go!
Sell your designs online.
Selling digital designs online can be a great way to generate steady money. In addition, it requires virtually no overhead, so you can get started from the comfort of your home with limited supplies and resources.
You need to design something people are interested in buying and find platforms to sell it on, like Etsy or Redbubble. So, there is potential for long-term residual income and financial security, and this work keeps you creatively engaged.
Whether it's an illustration, graphic design, or even a creative piece of written content – selling digital designs online can become a lucrative form of income that offers enormous freedom and flexibility.
Rent out a room, apartment, or house for a weekend
Did you know renting a spare room could be a great way to earn residual income? It's true, and what makes it even better is that it can require minimal effort! All you have to do is find someone interested in renting the room for an agreed-upon period and price. Then, sit back, relax, and watch your bank account grow every month.
Renting out a spare room may not make you rich overnight, but it can help supplement your other income streams while giving you extra financial breathing room.
What are you waiting for? Try renting out a spare room today – you'll be glad you did!
Build an online course.
With so many avenues to generate passive income, creating an online course can be an excellent venture for entrepreneurs.
Whether your passion lies in teaching others how to cook, design graphics, or draw comics, there are plenty of opportunities to benefit from online course platforms such as Udemy, Skillshare, and Coursera.
Not only is the ability to monetize exciting but the easily transferable knowledge and skills that come with creating an online course are perhaps more valuable than anything else.
Each platform offers different features, modules, and access levels, allowing anyone to create interactive and engaging courses that give people something worth paying for.
Why not explore this opportunity today? Then, with some dedication, you could have a residual income stream generating money even while you sleep- I think we would all like that!
Invest in income properties.
Investing in income properties is a great way to generate a residual income. By purchasing an investment property, you can rent it out and receive steady rental income each month.
Additionally, you can take advantage of the potential appreciation of the property over time. Income properties are often more affordable than other investments and can produce higher returns, making them an attractive option for investors looking for passive income streams.
When investing in income properties, it's essential to research and understand the local real estate market to ensure that you acquire a profitable asset that will provide consistent returns. Before investing, don't ignore repair costs, taxes, insurance, and other associated expenses of owning a rental property.
Invest in bonds and mutual funds.
Investing in bonds and mutual funds is a great way to generate residual income. It requires a relatively low amount of capital upfront compared to other avenues for passive income and can provide a significant return on investment with minimal effort.
You can always add additional funds to your account or reinvest a portion of the returns that you receive to increase your holdings over time.
With careful planning, investing in bonds and mutual funds can be a smart move for anyone, no matter their experience level or budget. So invest now and reap the rewards later!
Peer-to-peer lending
When diversifying your sources of income, peer-to-peer lending offers a unique opportunity.
This investing method connects people who need capital with those who have some to spare. By connecting the two, you can earn regular interest from borrowers who pay you on the loaned money.
It's not a get-rich-quick scheme, but with some thoughtful research and care, it can become an excellent residual source of income that helps your bottom line.
P2P lending is an efficient way to access capital quickly and build relationships between lenders and borrowers that often stand strong for years.
Nowadays, most of this lending is online through a few reputable companies like Prosper or Lending Club. So give it a shot – it might be the perfect option for reaching your financial goals in 2023 and beyond!
Becoming a business consultant or coach
Becoming a business consultant or coach is another great way to generate residual income. Consulting and coaching involve providing guidance and advice to businesses, entrepreneurs, and organizations to help them improve their operations and processes.
As a consultant or coach, you can charge a fee for your services, offering your expertise continuously. Depending on the consulting services you provide, you may be able to charge an hourly rate and a retainer fee for ongoing services or projects.
Additionally, there are various ways to monetize your knowledge and experience, such as creating e-books, live webinars, or online mastermind groups.
Offering consulting services can provide a lucrative source of residual income with relatively low overhead costs.
Is residual income taxable?
So the question is, is residual income taxable?
The answer's simple: yes.
Residual income is subject to taxes, just like any other type of income. The only difference with residual income is that it is not your gross income but net income after deducting all obligations and expenses.
It doesn't matter what you call it. Passive or residual income, anything you gain from investments, royalties, or licenses, must be reported as a form of income, and appropriate taxes must be paid accordingly.
The bottom line
Residual income generates money even after the primary work is done, such as rental income from an investment property or royalties from creative works like music and books.
In personal finance, residual income is left over after expenses have been paid. For businesses, residual income is left over after all relevant costs and expenses have been paid.
There are several ways to generate residual income, such as renting properties, writing a book, or working with affiliates. Taxation on residual income varies depending on whether it is earned from an individual or a business.
Residual income ideas include renting out a room, apartment, or house for a weekend, putting photography online for people to use, writing a book, creating an online course, and working with affiliates. By understanding the concept of residual income and exploring these ideas further, individuals can start building financial security and generate sustainable cash flow streams.
By exploring these ideas and understanding how they work, individuals can build financial security and generate sustainable cash flow streams. With a little effort and understanding, residual income can be a gratifying experience.
Related Questions
What can I do with my residual income?
Investing your residual income is an excellent way to maximize your returns. Choosing suitable investments is essential so you can grow your wealth and achieve your financial goals. Some popular investment options include dividend stocks, bonds, mutual funds, ETFs, real estate, and cryptocurrency. Each type of investment comes with its own risks and rewards, so it is essential to research and understand which option will be the best fit for you.
What is the best source of residual income?
The best sources of residual income streams depend on your individual goals and circumstances. For example, if you have a passion for real estate, you may invest in rental properties or REITs (real estate investment trusts). Investing in cryptocurrency could be another option if you're tech-savvy and have some extra capital. Additionally, starting a business that offers services or products that customers can purchase on an ongoing basis can also be a great source of residual income. Your expertise and risk tolerance will determine your own best source of residual income.
Is it better to have passive or active income?
Generally speaking, passive income is more desirable as it requires less time and effort investment to maintain a certain level of earnings. On the other hand, active income involves work for money or, putting it simply, exchanging time for a paycheck.
Unless you have a calling, such as being a doctor, police, scientist, or politician, most people prefer a passive income lifestyle because you can spend time in your vocation instead of your job.