Blogging Or Vlogging? The Ultimate Guide To Choose Your Perfect Creative Path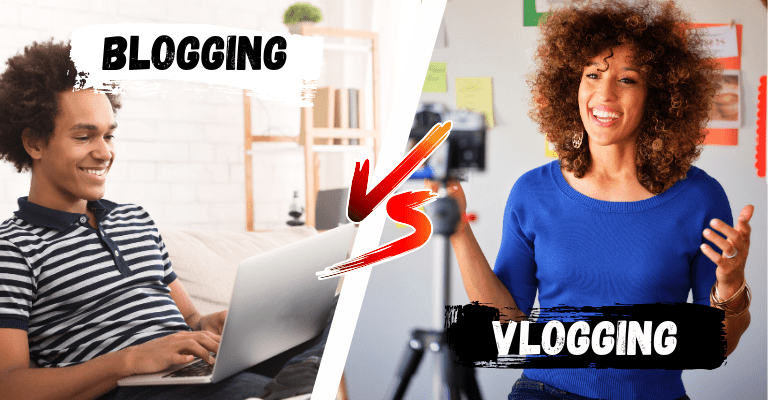 In today's digital landscape, deciding whether to pursue a career in blogging or vlogging has become increasingly prevalent. As both mediums continue to flourish and evolve, potential content creators face the challenge of selecting their ideal creative path that suits their talents while guaranteeing personal fulfillment and financial success.
This guide will delve into the intricacies of both fields, providing comprehensive insight into the world of online content creation while ultimately aiding individuals in making an informed decision about which direction to take.
The abundance of blog and video platforms available for sharing written and visual content has led to an explosion in personal expression through blogs and vlogs. However, as these two forms have grown in popularity, so must discern between them when considering which avenue best aligns with one's goals and aspirations.
🤔 Ever wondered whether you should start a blog or a vlog? 🤯 We've got you covered with our in-depth comparison! Learn the pros and cons of each platform and make the perfect choice! #Blogging #Vlogging #OnlineSuccess
Click To Tweet
Understanding The Concepts: Blog v Vlog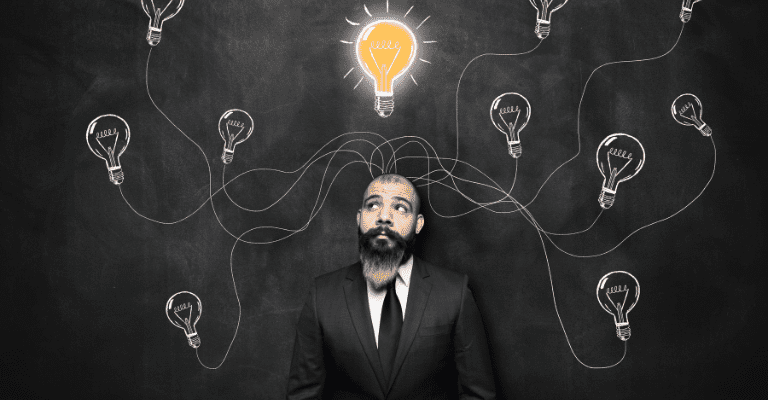 There are many ways to create digital content, one of which is through blogging and vlogging. It can be helpful to understand the differences between these two methods if you want to find your ideal creative path.
A blog represents a platform where individuals (a personal blog) or organizations can express ideas, share information, and engage audiences through written content in a blog post, including images or other multimedia elements. This format allows creators to convey intricate details and articulate thoughts in depth while facilitating search engine optimization (SEO).
Interesting Fact:
The internet has over 1.9 billion websites, and over 600 million blogs exist online.
On the contrary, a vlog, video blog, video log, or video form of a blog encompasses video content that captures experiences or imparts knowledge using visual storytelling methods. Vlogs possess an innate ability to forge stronger connections with viewers due to their immersive nature and human touch – characteristics that tend to yield higher levels of viewer retention when compared to text-based blogs.
Interesting Fact:
Users collectively watch over 1 billion hours of video content daily, making YouTube the go-to destination for online video consumption.
When considering each medium's inherent qualities, aspiring creatives may want to consider their preferences for time investment, skill set development, and how much their audience will enjoy it. For example, blogging requires proficiency in writing style and SEO techniques; however, it doesn't need much equipment investment to get started.
A Historical Perspective On Digital Storytelling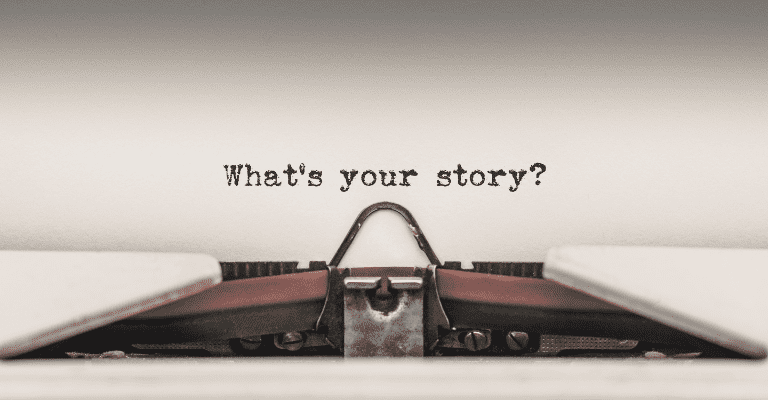 The emergence of digital storytelling as a means for self-expression, communication, and creativity has its roots in the evolution of various mediums throughout history.
In the early days of human civilization, stories were shared through oral traditions, cave paintings, and written manuscripts.
As technology progressed, so did the platforms used to convey these narratives, from printed books to radio broadcasts and television programs.
The rise of the internet in the late 20th century paved the way for new forms of content creation, such as blogs and vlogs, which have now become an integral part of contemporary creative paths.
About blogging and vlogging precisely, one can trace their origins back to the advent of Web 2.0 technologies that facilitated user-generated content sharing online.
Blogs emerged as online journals where individuals could document their thoughts, experiences, or opinions without any technical expertise required for publishing traditional print media.
Key Takeaway:
Blogging boosts website traffic: Companies that maintain an active blog receive 55% more website visitors and generate 67% more leads than those without a blog, demonstrating the power of blogging in driving online growth.
Vlogs evolved from this concept by incorporating video recordings instead of text-based entries, providing a more dynamic form of digital storytelling with added visual appeal.
Key Takeaway:
500 hours of content uploaded every minute: Creators upload 500 hours of video content to YouTube every minute, highlighting the immense competition and variety of content on the platform.
Through this historical perspective lens, it is clear how both blog and vlog formats provide unique advantages that cater to the varied preferences of content creators who seek innovation within their chosen medium.
With advancements in technology, storytellers have more tools than ever to share their stories with the world. By crafting narratives that resonate with both their strengths and audience interests, they can connect with people across diverse platforms.
Differences Between Written And Video Content
As people moved from pen and paper to the camera lens, creators wondered: should they continue writing or start making videos? This decision comes down to understanding the strengths and weaknesses of each medium and allowing your preferences and goals to guide you.
Efficiency: Blog articles allow readers to quickly scan for relevant information, while videos require viewers' commitment from start to finish.

Accessibility: Written content can be consumed by those with hearing impairments or language barriers more easily than video format, as subtitles are not always provided on videos.

Flexibility: Video blogging allows creators to showcase personality through visual cues, requiring technical skills such as filming and editing.
As one begins the journey of self-expression, recognizing personal strengths and values before selecting a creative outlet becomes essential. Below is a key difference comparison table for your reference.
| Aspect | Blogging | Vlogging |
| --- | --- | --- |
| Format | Written content (text, images, infographics) | Video content (live, recorded, edited) |
| Accessibility | Easily accessible, requires an internet connection | Requires internet connection and video player |
| Ease of Creation | Requires good writing skills and content planning | Requires video equipment and editing skills |
| Time Investment | Writing, editing, and publishing | Recording, editing, and uploading |
| Audience Engagement | Comments, social sharing, backlinks | Likes, comments, shares, subscribes |
| Monetization | Advertisements, sponsored posts, affiliate links | Video ads, sponsorships, affiliate links |
| Search Engine Optimization (SEO) | High potential with keyword usage and optimization | Moderate potential relies on video titles, descriptions, and tags |
| Learning Curve | Moderate: writing, basic HTML, and web design | High: proficient in video editing software and marketing |
| Platform Options | WordPress, Blogger, Medium, etc. | YouTube, Vimeo, Twitch, or public video blogs platform. |
| Niche Flexibility | Wide range of topics and industries | Certain niches benefit more from video content |
| Statistics | 77% of internet users read blogs | Over 2 billion logged-in users visit YouTube monthly |
| Demographics | Diverse, varies by niche and topic | Diverse, tends to skew younger |
| Audience Segments | Readers, researchers, learners, shoppers | Viewers, learners, shoppers, entertainment seekers |
| Average Earning per Follower/Reader | Varies, $0.01 – $1 per reader, depending on niche and monetization strategy | Varies, $0.25 – $4 per 1,000 views, depending on niche and monetization strategy |
| Typical Time to Success | 1-3 years with consistent effort and strategy | 1-3 years with consistent effort and strategy |
| Success Examples | Pat Flynn (Smart Passive Income), Darren Rowse (ProBlogger), Michelle Schroeder-Gardner (Making Sense of Cents) | PewDiePie, Casey Neistat, Lilly Singh (IISuperwomanII), Marques Brownlee (MKBHD) |
Please note that the statistics, earnings, and time to success can vary significantly depending on the individual, niche, and strategy. These figures should only be used as rough guidelines.
Content Creation Process: Blog Vs. Vlog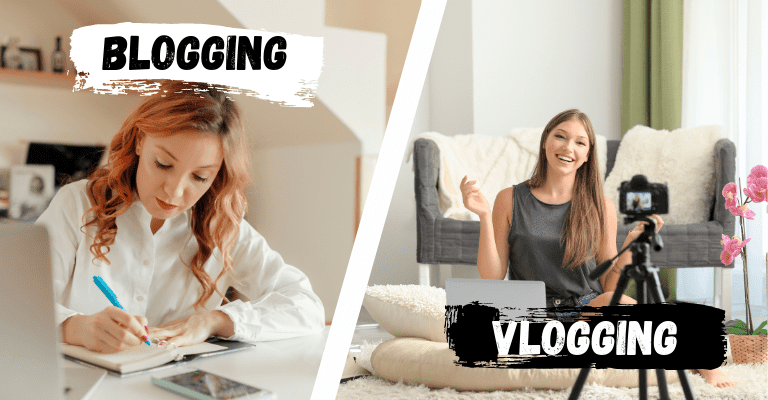 Content planning is essential for blogging and vlogging, as it enables creators to ensure their content is engaging, informative, and relevant to their target audience.
Researching is essential for any content creator, as it helps to ensure content is well-informed and provides more in-depth analysis.
Recording content is a critical aspect of blogging and vlogging, as the quality of audio and visuals will affect the viewer's experience.
Editing is essential for any content creation process, as it offers the opportunity to refine and optimize content for SEO, monetization, and distribution.
Content Planning
Picture a serene lakeside cabin surrounded by towering pines and with a warm golden glow from the setting sun. This idyllic scene is an ideal backdrop for contemplating one's content planning journey, whether through blogging or vlogging.
As any seasoned creative strategist knows, embarking on this perfect creative path requires insightful decisions about the type of content to produce and the platforms best suited to showcase that work. In addition, content planning is crucial in determining which medium – blogging or vlogging – will better serve one's unique talents and messaging goals.
For those who excel at writing and prefer expressing ideas through elegant prose, delving into the blogging world could provide boundless opportunities to inform and inspire readers across various platforms. Conversely, individuals who possess a natural charisma on camera may find their niche within the dynamic sphere of vlogging. Here, captivating visuals combine with authentic storytelling techniques to engage viewers in ways traditional text-based mediums cannot match.
The choice between these two paths ultimately lies with each creator; however, regardless of the direction taken, success awaits those who approach their craft with passion, dedication, and thoughtful content planning strategies tailored specifically for their chosen medium.
Researching
As content creators embark on their chosen creative path, whether blogging or vlogging, researching becomes an integral component of the development process.
Conducting extensive research enables creators to produce contextually relevant material and adapt and innovate within ever-evolving digital landscapes.
From identifying target demographics and understanding their unique needs to examining successful influencers' strategies and dissecting analytics data – developing well-rounded insights is paramount for achieving desired outcomes in content creation.
By consistently integrating reflective research practices into planning processes, aspiring bloggers and vloggers stand poised to make informed decisions at every stage of their journey, increasing the likelihood of sustained success.
Key Takeaway:
Consistently publishing high-quality content is crucial for maintaining reader engagement and improving search engine rankings. Websites that publish 16 or more blog posts per month get 3.5 times more traffic than those that publish 0-4 monthly posts.
Ultimately, through diligent application of these researched-based principles, content creators can maximize their potential impact on existing followers and those who have yet to discover their thoughtfully crafted work.
Popularity And Trends In Written And Video Content
Popularity and Trends in Written and Video Content
The realm of creative content production has experienced significant transformations over the years, with numerous trends shaping both written and video content. Aspiring creators must be attuned to these shifts as they embark on their ultimate guide to determining the most suitable creative path.
This section delves into current popularity and trends related to blogging (written content) and vlogging (video content), providing insights that can inform an individual's decision-making process.
| Marketing Niche | Suitability for Blogging | Suitability for Vlogging |
| --- | --- | --- |
| Health and Wellness | High: In-depth articles, product reviews | High: Product demos, personal experiences |
| Fitness and Weight Loss | High: Workout plans, tips, written explanations | High: Exercise demonstrations, motivational content |
| Beauty and Skincare | High: Product reviews, tutorials, photos | High: Makeup tutorials, skincare routines |
| Travel | High: Destination guides, travel tips, photos | High: Travel vlogs, destination highlights |
| Personal Finance and Investment | High: Articles, advice, infographics | Moderate: Visual explanations, personal stories |
| Parenting and Baby Products | High: Product reviews, advice, resources | Moderate: Product demos, day-in-the-life videos |
| Tech and Electronics | High: Detailed written analysis, specs, photos | High: Hands-on demonstrations, unboxings |
| Fashion and Apparel | High: Outfit ideas, product reviews, photos | High: Fashion hauls, outfit videos |
| Home and Garden | High: Product reviews, DIY guides, photos | High: Home tours, DIY tutorials |
| Pet Care and Supplies | High: Product reviews, pet care tips | Moderate: Pet care demonstrations, pet vlogs |
| Outdoor and Survival Gear | High: Product reviews, guides, photos | High: Gear demos, outdoor adventures |
| Online Education and Courses | High: Course reviews, learning tips | Moderate: Course demos, learning experiences |
| Web Hosting and Website Builders | High: In-depth articles, comparisons | Moderate: Tutorials, platform walkthroughs |
| Software and Apps | High: Detailed reviews, tutorials | Moderate: App demonstrations, tutorials |
| Digital Marketing Tools | High: Tool reviews, strategy guides | Moderate: Tool demos, marketing tips |
| Online Gaming and eSports | High: Game reviews, news, strategy guides | High: Game streaming, let's play videos |
| Photography and Videography | High: Gear reviews, tutorials, photos | High: Gear demos, shooting/editing tutorials |
| Sports Equipment and Accessories | High: Product reviews, buyer's guides, photos | High: Equipment demonstrations, action videos |
| Arts and Crafts Supplies | High: Product reviews, DIY guides, photos | High: Art tutorials, craft projects |
| Cooking and Kitchen Appliances | High: Recipes, product reviews, photos | High: Cooking demonstrations, appliance demos |
| Personal Development and Self-Help | High: Articles, book reviews, tips | Moderate: Personal stories, motivational talks |
| Dating and Relationships | High: Advice, personal stories, resources | Moderate: Personal experiences, advice |
| Nutrition and Supplements | High: In-depth articles, product reviews | High: Product demos, personal experiences |
| Green Living and Eco-Friendly Products | High: Product reviews, tips, resources | Moderate: Eco-friendly lifestyle vlogs, product demos |
| Music and Audio Equipment | High: Product reviews, tutorials, guides | High: Gear demos, music production tutorials |
While some niches may be more suitable for blogging or vlogging, both platforms can be effective for all topics depending on the creator's skills and the audience's preferences.
The table above shows that each form of content creation has distinct advantages. Although blogging is more versatile, vlogging is indispensable in many use cases.
Given these factors, it becomes apparent that neither written nor video content reigns supreme; instead, their respective merits cater differently to diverse audience preferences and needs. Therefore, aspiring creators should consider their inclinations and market expectations when selecting a mode of expression best suited for achieving success within the vast digital landscape.
By understanding the nuances between blogging and vlogging outlined throughout this ultimate guide, individuals will be better equipped to embark on a fulfilling creative journey tailored to their aspirations and abilities.
Monetizing Your Online Presence: Blog And Vlog Tips
Building an audience is essential in monetizing your online presence and requires growing your reach through strategic content marketing and social media promotion.

Choosing the right platform(s) for your content is paramount, as the platform you use can significantly impact your monetization strategies.

Advertising strategies such as display ads and sponsored content can generate revenue, while brand partnerships and affiliate marketing can also be effective.

Other monetization methods such as merchandise sales, paid online courses, subscription services, donations, crowdfunding, grants, consulting, and freelance work should also be considered viable options.
However, nothing else matters unless you build an audience…
Imagine a world where captivating content effortlessly attracts legions of loyal followers eager to consume the latest insights and innovations. With strategic planning and targeted efforts, building an audience in today's digital landscape is more achievable than ever.
To build this coveted target audience, it is crucial first to identify the ideal viewer or reader persona—a composite representation of the demographics, interests, and preferences of those most likely to engage with the content produced. With this information, creators can tailor blog posts or vlogs specifically for these individuals while addressing topics that resonate with them on a personal level.
The secret sauce for retaining and growing one's target audience is consistently delivering high-quality, engaging videos or articles offering unique perspectives or solutions within a specific niche.
Interesting Fact:
Top bloggers can earn six or even seven-figure incomes through advertisements, sponsored posts, and affiliate marketing, turning their passion into a full-time career.
This passionate community becomes instrumental in spreading awareness about new creations, ultimately driving increased traffic and revenue opportunities for its beloved creator.
Assessing Profit Potential: Blog Vs. Vlog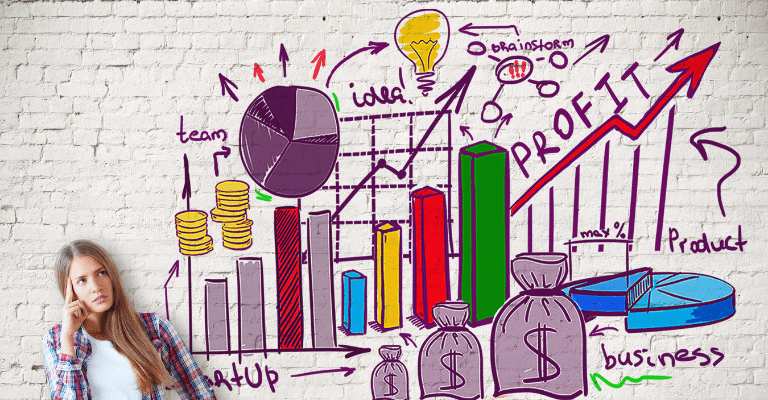 Audience reach is a significant factor when choosing between blogging and vlogging, as the size of the audience plays a role in the potential for monetization of the creative content.

Blogging offers the opportunity to reach a wider audience with the potential to get a more significant number of readers than vlogging.

Advertising revenue is one of the primary sources of income for bloggers and vloggers, and the size of the audience can be a critical factor in determining potential ad revenue.

Monetization of vlogging may require the creator to be more active in seeking out potential sponsors and other sources of ad revenue, as vlogging is often less likely to result in a large enough audience to attract advertisers.
Audience Reach
In pursuing a fulfilling creative path, understanding audience reach is crucial when deciding between blogging and vlogging. This factor encompasses not only the number of potential viewers or readers but also their level of engagement with the content being shared.
By delving into personal experiences and connecting with others emotionally, both platforms can offer opportunities for growth and monetization.
The realm of blogging allows individuals to express themselves through the written word while honing their skills in storytelling and communication. Although reading blogs may require more time than watching videos, some audiences prefer this medium due to its subtlety and ability to provide detailed information at one's own pace.
Blogging has been around for quite some time now, which means that numerous established bloggers have already proved it as a viable creative outlet capable of attracting significant audience reach. However, competition remains fierce within this space, requiring aspiring writers to find innovative ways to stand out among a sea of well-established voices.
On the other hand, vlogging offers an audiovisual experience that appeals to those seeking a more immersive connection with creators. Vlogs often showcase slices of daily life accompanied by commentary from the creator, providing viewers with unique insights into their thoughts and perspectives.
As video consumption continues to surge across social media platforms like YouTube, Instagram, and TikTok, vloggers have more excellent opportunities to expand their audience reach quickly. Additionally, visual content tends to be more shareable than text-based posts, increasing its potential for widespread exposure.
It should be noted that, much like blogging, success in vlogging necessitates constant innovation and dedication toward creating high-quality content explicitly tailored for target audiences.
Ad Revenue
As audience reach and engagement play a pivotal role in determining the success of blogging and vlogging, another factor that must be considered is the potential to generate ad revenue.
Advertising constitutes one of the primary sources of income for both bloggers and vloggers, with platforms such as Google AdSense providing monetization opportunities based on user interactions with ads displayed alongside their content. However, the earning potential from this source largely depends on factors like traffic volume, niche market, and overall quality of content created.
Interesting Fact:
The highest-earning YouTube channels can generate millions annually through ad revenue, sponsorships, and merchandise sales. In 2020, 9-year-old Ryan Kaji from Ryan's World was the highest earner, raking $29.5 million.
In addition to traditional advertising methods, creators have alternative avenues to supplement their income, such as sponsored posts or collaborations with brands relevant to their respective niches. Furthermore, offering exclusive services like online courses can provide an additional revenue stream for those who wish to share specialized knowledge with their audiences.
Aspiring bloggers and vloggers should strategically consider these diverse options when assessing profit potential within each medium.
Ultimately, the decision between pursuing a career in blogging or vlogging hinges on personal preferences and a thorough understanding of each platform's strengths and limitations regarding audience reach and ad revenue generation. By remaining attuned to technological advancements and emerging trends within these mediums, individuals can maximize their chances of building successful careers while fulfilling their creative aspirations through meaningful connections with worldwide viewers.
Here's a comprehensive comparison of the pros and cons of Blogging vs Vlogging:
| Aspect | Blogging Pros | Blogging Cons | Vlogging Pros | Vlogging Cons |
| --- | --- | --- | --- | --- |
| Format | Written content allows for in-depth information | Limited by the reader's imagination and attention | The visual format can be more engaging and entertaining | It can be time-consuming to produce and edit videos |
| Accessibility | Easily accessible and works well for slow internet connections | Not as immersive as video content | Appeals to a wider audience, including those with reading difficulties | Requires a good internet connection for smooth streaming |
| Ease of Creation | Requires only a computer and writing skills | Writing may be challenging for some creators | Can showcase personality and charisma | Requires video equipment and editing skills |
| Time Investment | Less time-consuming compared to video production | Requires regular updates to maintain reader interest | Can provide real-time content (e.g., live streaming) | More time-consuming due to recording and editing |
| Audience Engagement | Readers can easily skim content and find specific information | Engagement can be lower than video content | Higher audience engagement, more shareable | The audience may not watch the entire video |
| Monetization | Multiple monetization options (ads, sponsored posts, affiliate links) | It can take time to build traffic and income | Potential for higher ad revenue with video content | Heavily dependent on platform monetization policies |
| SEO | High potential with keyword usage and optimization | Competition can be high in popular niches | Can benefit from video platform's search algorithms | Less control over SEO compared to blogging |
| Learning Curve | Moderate: writing, basic HTML, and web design | Requires knowledge of SEO and content marketing | It can be easier for those with a strong on-camera presence | High: video production, editing, and marketing |
| Platform Options | More platform options (WordPress, Blogger, Medium, etc.) | Platform longevity and stability may vary | Video-centric platforms (YouTube, Vimeo, Twitch, etc.) | Limited to video-friendly platforms |
| Niche Flexibility | Suitable for a wide range of topics and industries | Some niches may be less engaging in written format | Some niches benefit more from video content | Not ideal for text-heavy content |
This table outlines the general pros and cons of blogging and vlogging. However, individual experiences and success may vary depending on the creator's skills, content strategy, and target audience.
In conclusion, the choice between blogging and vlogging ultimately depends on one's personal strengths, target audience, and objectives in content creation. In addition, careful consideration must be given to platform selection, promotional strategies on social media, posting consistency, overcoming challenges faced by bloggers or vloggers, and collaborating with others to expand reach.
One interesting statistic demonstrates over 600 million blogs worldwide (2021), highlighting the immense competition among content creators.
This emphasizes the importance of strategically planning your creative path and leveraging unique approaches to stand out and captivate your audience's attention.